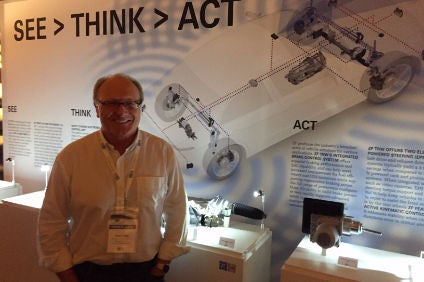 ZF TRW says it is still unclear whether or not the recent diesel emissions scandal surrounding Volkswagen will lead to increased development around semi or full electric vehicles.
The German automaker is mopping up the remnants of the diesel furore which engulfed it towards the end of last year and which has led to industry-wide soul searching as to the parameters of future testing regimes.
"Our thoughts have been, will this lead to a more aggressive move to plug-in hybrid [s], electric vehicles or full battery electric vehicles," ZF TRW board member and business development director, Peter Lake told just-auto at the supplier's winter test in Arvidsjaur, Northern Sweden.
"The jury's still out, although there have been some announcements by Volkswagen in particular they will move into electric more rapidly. There are commentators in the industry who wonder whether diesel will be able to meet the increasing standards as they move forward.
"You are getting to 70g [CO2] and where does it go thereafter?"
The ZF TRW board director also pointed to continuing growth worldwide as major business opportunities, noting despite a slowdown in China, the country was still posting rates up 3% to 5%, while Europe and North America were rising at around 2%.
One of the more problematic areas of the world is undoubtedly Russia, whose vehicle sales collapsed by 36% in the 12 months of last year and which shows no immediate sign of recovering very fragile consumer confidence.
An oil price of less than US$30 per barrel, high inflation and a rapidly depreciating rouble have led to considerable weakening of consumer confidence, which has translated into poor automotive sales as customers struggle to obtain reasonable credit terms.
"Legacy ZF was particularly strong in the [Russian] truck market," added Lake. "The truck market has suffered particularly in Russia."