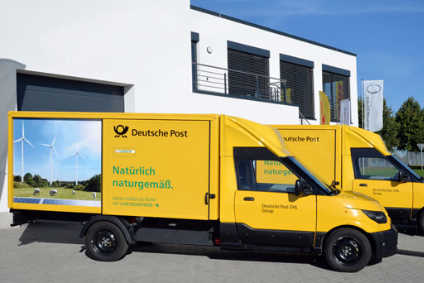 German-based logistics firm Deutsche Post DHL has developed its own electric delivery van on an outsourcing manufacturing model and has recently added a larger variant to one that is already in service. The move illustrates the potential ease with which a new entrant could enter the auto industry and upset the established order.
Reuters reports that Deutsche Post is using the vehicles – named StreetScooters – to meet growing demand for e-commerce deliveries without adding to air pollution in German cities, replacing conventional Volkswagen Caddy vans in its fleet – something that has not gone down too well in Wolfsburg.
The report said that Deutsche Post is even considering whether it could sell the Steetscooter on the open market.
Deutsche Post says it developed the van when conventional vehicle makers turned down requests to build the electric vans at relatively low volume due to the high costs involved.
"We are purposely not reinventing the wheel. We do not produce a single component ourselves. Everything comes from a supplier," Win Neidlinger, director of business development at Deutsche Post's carmaking arm StreetScooter GmbH, told Reuters.
The Reuters report says that Deutsche Post – which contracts vehicle manufacture to a subsidiary company, StreetScooter GmbH – already has 1,000 of the bright yellow vans on the road, and production has been raised to 5,000 vehicles a year, with the possibility of adding a second shift.
StreetScooter, the report says, used a software programme made by PTC ('Windchill') to facilitate a network of 80 suppliers including Bosch, which provides the electric drivetrain, and Hella which makes the headlights.
The report added that by the year-end, Deutsche Post will decide whether to sell its vans on the open market.
Volkswagen's Caddy vans are being phased out by Deutsche Post in favour of StreetScooters. VW CEO Matthias Muller is apparently not amused, according to the report. "I am annoyed beyond measure. I, of course, ask myself why Post did not talk to our VW Commercial vehicles division about doing something similar," Chief Executive Matthias Mueller was quoted in the report by Reuters.
Conceived specifically for Deutsche Post, the vehicle can reach speeds of up to 85 km/h. The vehicle features a 30 kW induction motor powered by a lithium-ion battery and a maximum range of 120 kilometres.
It must also be able to handle 200 stops and starts and be in service up to 300 days a year. The body of the over 4.6-meter-long vehicle provides sufficient cargo capacity for mail and parcels as well as a robust construction that meets all safety standards, Deutsche Post says.
At the recent IAA Commercial Vehicles trade fair in Hanover, StreetScooter GmbH presented a larger vehicle – "StreetScooter Work L". The new van has double the loading capacity of the previous model, with eight cubic meters of loading space to carry as many as 150 parcels. The maximum vehicle load capacity of the Work L is 1,000 kilograms. It is also equipped with a stronger engine and a new lithium-ion battery. Deutsche Post DHL aims to have more than 170 StreetScooter Work L vehicles on the road by the end of the year and to use them for joint delivery – meaning the combined delivery of letters and parcels – as well as for parcel shipments alone as part of its "carbon-free delivery" project.