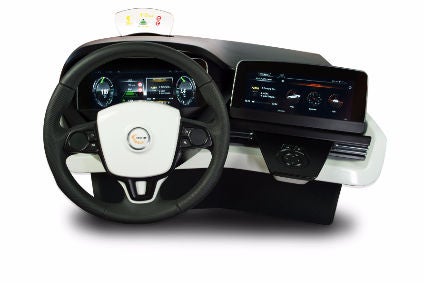 Visteon CEO Sachin Lawande has told just-auto that product integration in electronic components is being driven by proliferating electronics applications in vehicles and associated rising costs.
Speaking at the Detroit Show, Lawande said that a key part of Visteon's strategy is to address the proliferation of electronic control units (ECUs) in vehicles by integration to one comprehensive cockpit 'domain controller' (such as the Smartcore concept demonstrated at CES).
At the CES show last week the company said that it will supply an industry-first, automotive grade cockpit domain controller to a "European automaker on a global vehicle program in 2018".
"Costs are going up at a level that OEMs are not able to absorb," Lawande maintains. "Electronics content is rising. The semi-conductor content on an average car is around $300 and that is going up 10% every year. The OEMs can't pass that on to the customer. For every new function, there is a new ECU for that. There can be anything between 20 and 100 ECUs per car and every cycle results in a few more. Our response is to integrate. It is not easy, but we are pushing this envelope."
He also said that Visteon is focused on being the industry leader in cockpit electronics and sees three main benefits in the approach to consolidate to one comprehensive cockpit ECU system, including enhanced security.
"One benefit is cost. Secondly, you can create a very homogeneous environment. Today, multiple suppliers mean that you can get a disconnected customer experience. Thirdly, and very importantly, one box that you can lock down means that you have a better chance of improving cyber security. Multiple ECUs with interfaces to other devices create the potential for intruders in each area. Having just one box is a big step forward in this respect. So our solution meets three very important industry concerns."
Visteon had an exhibition booth at CES last week and Lawande said that a big theme there was cyber security. "You could not walk two steps without running into that discussion with people," he said.