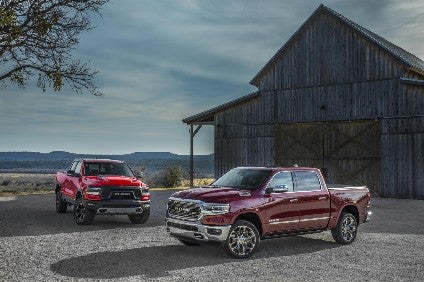 When Ford last fully redesigned its top selling F-150 pickup truck, for 2015, it shaved 700 pounds of weight by – controversially – using as much aluminium as possible in the body and frame, bringing benefits in fuel economy and overall range CAFE ratings. Now FCA's Ram Trucks division has used more alloy, and composites, to reduce the weight of its redesigned 2019 1500 by 225 pounds.
The latest 1500, Ram claims, uses the "longest, lightest and most efficient frame in the half-ton truck segment". The chassis has weight reduced by 120 pounds – 100 pounds from the frame alone allowing a maximum payload of 2,300 pounds and maximum trailer tow capacity of 12,750 pounds.
The frame includes the same impact countermeasures across all configurations and is made from 98% high strength steel. Exclusive front splayed frame rail technology creates a highly efficient energy absorbing structure for all impact modes, including front-offset with frame integration forward of the front tyre.
To further improve NVH, new electronically controlled side-frame-mounted active tuned-mass modules (ATMM) work in harmony with an interior active noise cancellation (ANC) system on 5.7 litre Hemi V8 models to reduce ambient sounds down to 67.1 db.

Three new, longer frame lengths are offered: a 144.5 inch wheelbase on Crew Cab short beds and a 153.5 inch wheelbase on Crew Cab long beds – both four inches longer. The Quad Cab long bed has a wheelbase of 140.5 inches.
Aluminium is used in the suspension. New independent front components combine light weight composite upper control arms, aluminium lower control arms and retuned geometry.

A new aluminium tailgate features damping during opening and integrates a lift assist measure. Ram uses a nitrogen- and oil-charged strut which gives consistent assist in all climates and consistent assist through the entire tailgate swing. The latch and lock mechanism is now electronic, reducing the amount of moving parts and allowing owners to drop the tailgate with the interior switch, remotely with the key fob or unlock/open with passive entry.
By using effective high strength steels, composites and aluminium, the 2019 1500 has dropped nearly 120 pounds from the chassis (100 pounds from frame alone) and nearly 225 pounds overall when compared to the previous generation. Additional weight reductions balance out added content.

Aluminium bonnet and some chassis components are again used and, for the 2019 model, tailgate, engine mounts, front axle centre section, front suspension cross member, transmission cross member and steering system gear are also now made from alloy.
Light weighting also substituted composites for metal. The upper front suspension control arms (integrated with a steel structure), and the air dam structure are made from, or combined with, composite materials.
Ram said the weight reductions allow for more convenience, comfort and entertainment features but also innovative fuel saving technology, such as thermal management, eTorque and active aerodynamics.
Application of active aerodynamics and modern styling led to a 9% aerodynamic improvement on the new truck. The Quad Cab 4×2 coefficient of drag is .357. As the truck approaches 35mph, a standard active front air dam on some versions automatically extends downward 2.5 inches. The optional air suspension system alternatively lowers the truck 0.6 inches improving overall aerodynamics and efficiency. The new line also has an active grille shutter system which automatically closes airflow when cooling is least needed.
A new electric power steering system reduces weight by six pounds and is tuned for lighter and quicker steering. An electric motor instead of engine powered hydraulic pump improves fuel efficiency up to 1.8% and adds five horsepower.
Powertrain
The addition of the eTorque mild hybrid system is one of several changes made to the powertrains for the 2019 model.
Thhis replaces the traditional alternator with a belt driven motor generator unit that works with a 48 volt battery pack to enable start/stop, short-duration torque addition to the engine crankshaft in certain driving situations and brake energy regeneration.

With the engine running, the motor generator unit feeds 48 volt current to a 300 watt hour lithium ion Nickel Manganese Cobalt (NMC)-Graphite battery. The small suitcase size, air-cooled battery pack mounts to the rear wall inside the cabin.

In addition to spinning the engine for restarts, eTorque also recaptures energy during deceleration and braking to feed extra charge to the battery pack.

Engines are the 305hp 3.6 litre Pentastar V6 or 395hp 5.7 litre Hemi V8 with cylinder deactivation during light load operation.
Transmissions are eight speed automatics.
Thermal management
The previous Ram 1500 had a thermal management system that taps into heated engine coolant to speed the warm up of automatic transmission fluid and engine oil and the 2019 redesign adds a claimed industry-first application that uses heated engine coolant to warm up the rear axle lubricant of 4×2 models.
The engine control unit manages a three way valve in the engine cooling circuit. Heating the truck cabin always takes priority, based on the HVAC temperature setting. Once heated, the valve routes coolant to the rear axle, where it circulates through a cavity in the double layer axle cover to warm the gear oil. The warmed gear oil is less viscous and brings the axle to peak operating efficiency faster. Also, the system helps prevent the rear axle from exceeding maximum temperatures during demanding conditions such as hauling and trailer towing.
Optional 4WD uses the BorgWarner 48-12 for part-time 4WD operation with Hi and Low ranges and the BorgWarner 48-11 for on-demand 4WD. Both transfer cases have been upgraded internally in conjunction with the increased payload and towing capabilities of the new trucks.
Front and rear wheels and hubs adopt a six lug bolt pattern and a new electronic parking brake is now used.
The exhaust system was also re-engineered to reduce weight. Changes such as optimising the thickness of the exhaust pipes and using aluminium for the hanger brackets cut more than nine pounds from the system.
The latest Ram 1500 is longer and wider. Wheelbase and cab are up to four inches longer, width is increased by 0.5 inches and bed height is up by 1.5 inches.

The truck is built at FCA's Sterling Heights Assembly Plant (SHAP) in Michigan.
See also: Future Chrysler, Dodge and Ram models