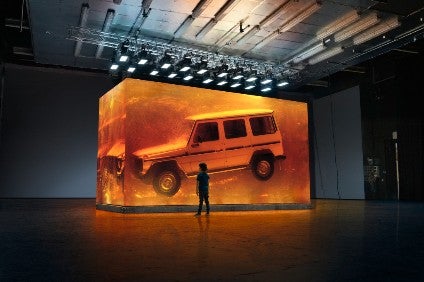 Daimler's Mercedes-Benz is launching its redesigned G-Class at the Detroit show with the claimed "world's biggest installation of synthetic resin".
It today (12 January) placed a giant amber cube made of 44.4 tonnes of synthetic resin encasing a 1979 280GE (first production year) at the entrance to Cobo Hall, the main NAIAS exhibition hall.
"The installation symbolises the timelessness of the off-road legend and makes a conscious reference to the natural phenomenon of insects preserved in amber," a press release gushed. "Like their genetic material the DNA of the first G-Class has also been preserved and is handed down from generation to generation."
Encasing the 280GE in the square block "in a dynamic position" gives the impression it has been engulfed by synthetic resin mid-stream when driving off road, in its natural habitat, and captured – as insects were by amber millions of years ago, said Mercedes.
The square block is 5.5m long, 2.55m wide and 3.1m high and took 90 days to make from 44.4 tonnes of synthetic resin.
Following Detroit, where the new G is launched on 14 January, the cuboid will also be on display in other markets as G-Class launches there.
The idea and conception of the campaign came from creative agency Antoni. production of the resin cube was carried out by Markenfilm Crossing.