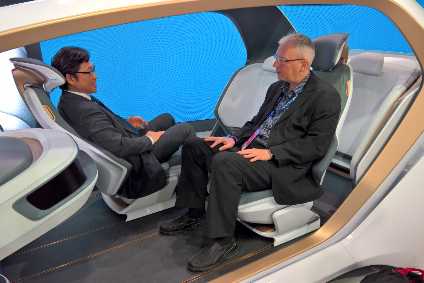 Adient has presented its AI18 interior seating concept for urban, electrically powered and autonomous vehicles at the NAIAS in Detroit and told just-auto that its future looking concept could be highly geared to ride-hail operators in the future. The car flexibly adapts to the requirements of different users and the seats swivel and move on a longitudinal track for different seating configurations.
Adient VP for Innovation and Design, Richard Chung, said that Adient sees a major opportunity ahead as transportation requirements change.
"When you go from today's traditional vehicle environment – which is built around the driver's seat and driving requirements – to level 4, then the steering wheel becomes optional, and when you are travelling alone, you really don't have to sit in that upper left or upper right corner," he said. "We want to allow the vehicle passenger to freely move about within the vehicle space. We want to have a more mobile movement of the seat inside the vehicle environment."
Chung said the concept has been created as something that could come to market around 2030, but could be production ready sooner, depending on how the market for driverless vehicles unfolds.
"The structure is already there – as a working prototype – so it's just a matter of incorporating it, as long as the carmakers are ready, and regulatory framework is in place. The consumers want it fast, based on reactions we are hearing."
Chung said that previous concepts mean Adient is well developed as a potential supplier for seats to autonomous vehicles and he sees seats as at the heart of the future autonomous vehicle because the interior space has to be rethought according to new patterns of use.
The AI18 concept was developed based on the findings of Adient's proprietary studies of automotive customers' seating needs in 2030 and beyond. The company focused in particular on new mobility alternatives such as ride sharing in urban environments.
"In the future, urban vehicles need to offer transforming seating solutions that can be easily modified to suit almost any situation throughout a typical day. Shared economy mobility will become the common way of life in big cities," Chung said.
Flexibility of application is also built in. The products shown in the concept can be assembled individually so manufacturers can use them in a wide range of vehicles for urban use — from microcars and minivans to minibuses.
Adient says that AI18 demonstrates just how flexible level 3 and 4 autonomous vehicle seating can be with the AI18's usage scenarios. There are different modes and configurations for the seating, with seats capable of swivelling around 180 degrees. To provide optimal safety, the seatbelts in the front row are integrated into the seat structure – not in the B-column of the vehicle as is the norm today.
For example, in communication mode, the vehicle becomes a mobile meeting space. The front passenger may turn 180 degrees so the driver and passenger can talk facing each other. To enable this, Adient is developing a new form of kinematics for the seating platform that lifts slightly so it can turn in a compact interior space. For the first time, this movement works when a person is already seated. All seating functions and vehicle settings are controlled via an operating panel integrated into the driver's seat so the seat increasingly becomes the "command centre," regardless of the seating position of the passengers.
Adient has integrated numerous "smart" solutions into the AI18. For example, seat setting preferences can be stored in an app and restored automatically when getting into the car (a feature that may be particularly useful for ride-hail usage).
Consoles integrated into the driver's seat provide additional settings using gesture control.
The AI18's vehicle seats hide sensors that make the seats into intelligent comfort assistants. For example, they can assess body position and pressure points to optimise comfort in each seating situation even on longer trips. Integrated health monitoring measures occupants' breathing and pulse rate to provide feedback on their physical condition, enabling time-saving 'tele-health services' while travelling.
"Society is becoming more focused on how to convert idle time, such as time travelling in a vehicle, into more meaningful, valuable time. It won't be just about doing something productive in the vehicle but also being able to feel comfortable and relaxed," Chung said.