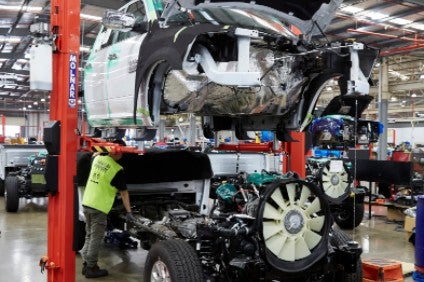 Demand for RAM Trucks in Australia and New Zealand means the local right hand drive conversion operation in Melbourne is moving to 24 hours a day, five days a week operation from 1 June 2019.
Most demand is for the 1500 with 291kW V8 engine and towing capacity of up to 4.5 tonnes.
Although local distributor Ateco likes to bill the operation as its own, the trucks are actually done by a joint venture company on one of four 'production' lines at an HSV facility which also converts the Chevrolet Silverado and Camaro for Holden plus HSV's own Colorado SportsCat truck.
The conversion facility – effectively disassembly/reassembly lines using as much local content as possible for parts unique to the RHD models – is a joint venture between HSV parent Walkinshaw Automotive Group and Ateco Automotive, a major independent vehicle importer and distributor.
Familiarity is apparently bringing speed. Alex Stewart, general manager of RAM Trucks Australia, said: "Since we started production we have cut by more than two thirds the time it takes to remanufacture a truck for our market, we use up to 400 components, the vast majority local produced by Australian companies and, by the time we go to three shift working, we will be employing more than 160 people directly and many more indirectly across the country."
The 'production' line is 130 metres long and 21 vehicles are worked on simultaneously, with each taking less than 24 hours for each vehicle to run the length of the production line, down from more than three days when RHD conversions first started in Australia. Each vehicle uses between 350 and 400 new parts in the process, the majority of which are Australian-produced.
Employee numbers on the line will lift from 110 to around 160 with the arrival of triple shift working. another 20 work in design and engineering plus parts supply and administration.
The local companies involved in parts supply include Socobell, which produces the dashboard, and Hi-Spec Australia for brake line components, air conditioning lines and high- and low-pressure fluid transfer hoses and tubing. Fiat Chrysler Automobiles and the RAM International Team have also provided support and assistance, as has AusIndustry's programme to assist companies and staff since other car makers have now ceased local production.
The RAM operation also converts the larger 2500 and 3500 truck models.