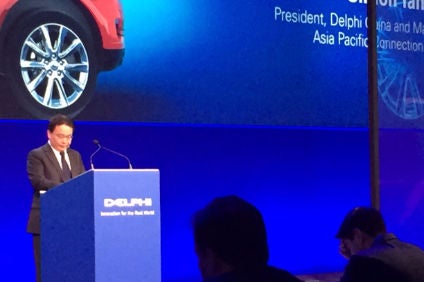 Delphi says it remains the number one automotive supplier for China as the country adapts to its 'new normal' rate of GDP increase after years or runaway economic expansion.
China's industrial boom is cooling somewhat compared to previous years, but growth targets settling to between 5% and 7% still make it extremely attractive to Tier 1 suppliers such as Delphi, which remains the largest automotive components producer in the country.
"The government target for this year [which] the National Congress set [is] GDP growth [of] 6.5%-7%," Delphi China president and managing director, Asia Pacific Connection Systems Simon Yang told just-auto on the sidelines of the supplier's Investor Update in London this week.
"We see this as a new normal – 2015 was 6.9% – it is more sensible growth. If you look at how automotive components work, [the] Chinese market is dominated by global players, we are the number one over there, there are very few Chinese players.
"If you look at the component side, it has taken a lot of technology, it is years of development, it is not short term. Another reason is the market is wide open. Car manufacturers still have joint venture regulations, so if you make a car in China you have to have a partners, but for components, no. It is more free competition."
The scale of Delphi's operation in China can be gauged by revenue growth which increased from US$1.7bn in 2010 to US$2.9bn last year, with predictions of US$4.4bn in 2018.
This is also reflected in the supplier's manufacturing base, whose facilities will rise from 22 this year to 25 by 2018 and an increase in staffing numbers from the current 28,800 to 31,000, with Delphi refilling many of the positions it had previously cut.
"In China right now, we have more than 3,000 engineers," added Yang. "[In] our manufacturing plants, our people are contracted so that gives us flexibility, when the market moves we are able to react, we quickly take action.
"We are a little bit more staff now, we hired more people. During the slowdown, we probably cut 4,000 and when we ramped back up, we hired almost 7,000."
With Chinese vehicle production expected to reach a level of 31m by 2020, Delphi says it will outperform the market with a rate of 14% CAGR revenue growth to reach US$5.5bn by 2020.