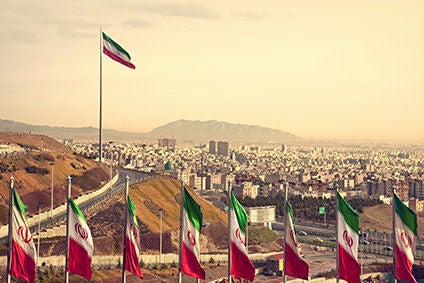 Renault is insisting it will "not abandon" Iran as manufacturers struggle to understand the impact of US sanctions against Tehran.
The French automaker appears to be moving in a different direction from fellow-manufacturer, PSA which says it has started the suspension of its joint venture activities in Iran following the re-imposition of sanctions on the country by the US.
After the US withdrawal from the Joint Comprehensive Plan of Action (JCPoA) announced earlier this year, the Group has begun to suspend its JVs activities, in order to 'comply with US law by 6 August, 2018'. However, it also said with the support of the French Government, PSA is 'engaging with the US authorities to consider a waiver.'
The European Union (EU) has reacted with alarm to President Trump's move with its leaders authorising the Commission in Brussels to take steps to protect the interests of companies operating in Iran.
The leaders' decision follows Trump's decision to withdraw from the nuclear deal, signed by the United Nations as well as the P5+1 members of the Security Council; UK, France, China, US, Russia and Germany, which paved the way for JCPoA for sanctions to be lifted against Iran.
France in particular has several industrial titans with major business in Iran, namely Renault, PSA, Airbus and Total, with the EU's move following urgent talks between Paris and 60 companies working with Tehran.
However, Renault is striking a more defiant note than some, citing its long involvement with Iran and that it is not the first time Tehran has been the subject of international sanctions.
"We have never abandoned Iran," said Renault CEO, Carlos Ghosn in comments sent to just-auto from Paris. "We have never abandoned Iran because we look at Iran for the long term. Today we are undergoing sanctions decided unilaterally by the President of the United States, so I say: We are not abandoning Iran, we will not abandon Iran.
"We will have a future in Iran. It might take perhaps one year, two years, three years. On the scale of Renault, that's nothing. However, we will not do this to the detriment of Renault's interests. That means we will closely ensure our presence in Iran does not provoke direct or indirect American authority retaliatory measures.
"That's why I have instructed the team working on the matter to be in direct contact with the American administration about what can and cannot be done. And in line with this dialogue, we will adapt in Iran. That said, even if we have to strongly reduce our scale, we will not abandon Iran. So, we will remain with a very reduced scale because we are convinced in one year, two years, three years, this market will reopen.
"And the fact of staying in Iran will give us an advantage. It's not something new, it's something we have always done, meaning long-term positions, even if from time to time, we have to suffer a short-term storm. In that case, there will be no long-term storm because we can't allow ourselves to suffer sanctions. We are advised by the French government, but we are in direct contact with the US administration to be sure we are not putting Renault in danger by continuing our diminished presence in Iran."
French business confederation, MEDEF, says it has set up a hotline for companies concerned about Iran, while French supplier association, FIEV's subsidiary, Club Iran, has branded President Trump's decision to withdraw from the nuclear agreement "a big mistake."
The Quai d'Orsay (French Foreign Ministry) added it viewed the Iranian nuclear deal remained "in force" and that it regretted the US withdrawal.
"France refuses the principle of extra-territorial sanctions," said the Foreign Ministry. "We ask the US that the return of American sanctions does not apply to French and European businesses which operate with Iran or invest there in the framework of the nuclear agreement.
"France will act to protect its businesses. We have established, with our European partners, contacts with Washington on this point."