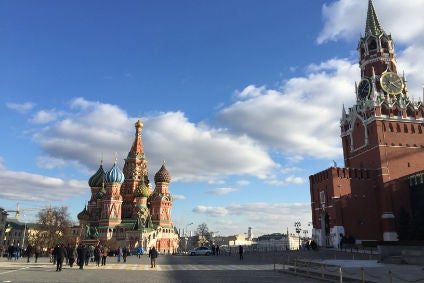 Russia's fledgling market recovery may turn into a rapid turnaround says one analyst – but only on condition several economic stars align.
After four years of dismal sales falls, which has seen 50% wiped off in volume, a tiny spark of light was recorded for the first quarter of this year as figures from the Association of European Businesses (AEB) showed a small move in a positive direction.
Russia had been viewed as akin to an eldorado for automakers in the past with perhaps some viewing the market over-optimistically as one with potential to reach up to 4m. However, there is undoubtedly enormous pent-up demand waiting to be unleashed on showrooms if the country's complicated economic and political machinations allow for a smooth business environment.
"The global market is going up this is good news," said Autostat Analytic Agency director, Sergei Tselikov at the recent Russian Automotive Forum organised by Adam Smith Conferences in Moscow. "The only exception is around three countries – and Russia is unfortunately among those which are falling – four years of slowing down.
"Due to the 2016 ruble depreciation, prices went up. We had the low base last year; we have accumulated, deferred demand. If all the 'ifs' take place, we could expect quite a sharp recovery. Our market is cyclical, so it is going to be dips and rises. [But] At some point we will have to renew cars purchased in 2009/10. Of course oil prices and ruble depreciation is very volatile. All the external factors, sanctions, lack of investment, price increases, people are now getting used to [them]."
Russia's fortune in sitting on vast reserves of oil and gas has been both a blessing and a curse as it remains at the mercy of turbulent international fluctuations – not to mention the imposition of sanctions from the West against Moscow's annexation of Crimea and supposed involvement in Eastern Ukraine.
Such abundance of energy means it is highly unlikely pure electric or even plug-in models will ever see much success in Russia, while the country's vast distances preclude their use even more.
"There are 35 Teslas in Moscow, 230 around Russia," added Tselikov. "In general I don't believe in any electric vehicles in Russia. Why would a country with so many fossil fuels need electric vehicles? Electric vehicles are not an option for Russia."
Recent steady rises in the price of a barrel of oil saw the commodity finally burst through the psychologically important US$50 – widely viewed as a break-even point for Kremlin coffers – but a 7% fall last week only serves to underline how fragile any windfall from cost increases can be.
Despite that, Russian inflation has fallen and the ruble strengthened, although access to credit continues to be challenging for those looking to purchase vehicles.