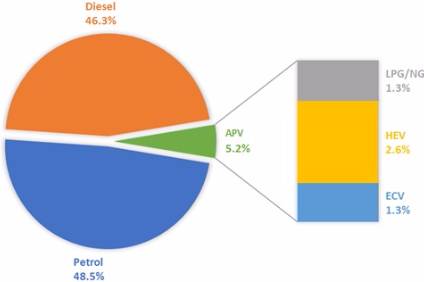 Europe's carmakers have warned that the decline of diesel in new car registrations will pose additional challenges on meeting future CO2 reduction targets.
The carmakers' trade association, Acea, points out that diesel's market share in the EU-15 fell from 50.2% to 46.3% of new car registrations in the first half of 2017. In absolute numbers, 152,323 fewer diesel cars were sold. This drop was offset by an increase in the sale of petrol vehicles.
ACEA cautions that this shift to petrol engines with higher CO2 values will pose "additional challenges to meeting future CO2 reduction targets".
For the first time since 2009, petrol vehicles have overtaken diesel to become the most sold car type in the EU-15. Petrol vehicles now account for 48.5% of new passenger car sales, up from 45.8% a year ago, which translates into 328,615 extra petrol cars sold year-on-year. Electrically-chargeable vehicles accounted for 1.3% of total car sales (a market share which remains stable), hybrids for 2.6%, and cars powered by propane or natural gas for 1.3%.
"Alternative powertrains will undoubtedly play an increasing role in the transport mix, and all European manufacturers are investing heavily in them," said ACEA Secretary General Erik Jonnaert. "To this end, more needs to be done to encourage consumers to buy alternatively-powered vehicles, for instance by putting in place the right incentives and deploying recharging infrastructure across the EU."
"In the meantime, however, as diesel cars emit significantly less CO2 than equivalent petrol-powered vehicles, they will have to be part of the gradual transition to low-carbon vehicles, acting as a 'bridge' technology."
Jonnaert added: "Policy makers need to be aware that a sudden shift from diesel technology to petrol will lead to an increase in CO2 emissions, given that the market penetration of alternative powertrains remains low."