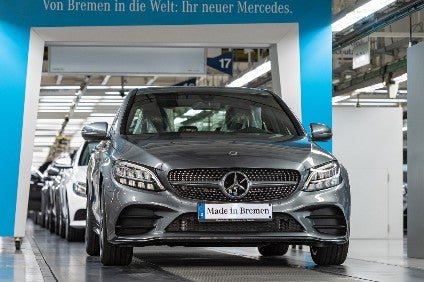 Daimler said its Mercedes-Benz plant Bremen built the first facelifted C-Class saloon during full capacity and within one day.
"In the highly flexible production, digital solutions and shopping carts are used to control diversity," the automaker said in a statement.
The revised C-Class will again be produced in four plants on four continents. Following lead plant Bremen, Tuscaloosa (US), East London (South Africa) and Beijing (China) will gradually start production of the high-volume model. Global production is "steered" by Bremen.
C-Class assembly uses digital production technology and Industry 4.0 which makes it possible to optimise the material flow, further increase efficiency and flexibility and further improve ergonomics for employees.
Preloaded shopping carts are delivered to the production line by driverless transportation systems and paper documentation is replaced by mobile devices such as tablets, mini-PCs and smart PDAs in accordance with the "paperless factory" concept.
The updated C-Class has detail exterior design changes front and rear, new alloy wheels and new colours. Active safety and driver assistance systems have also been revised and improved.
The model can be ordered with a fully digitised instrument display with the three visually different styles Classic, Sport and Progressive. For the first time in this series multibeam LED headlamps with ultra range high beam are available.
With 12,500 workers, the Bremen plant is the largest private employer in the region. Ten models are currently manufactured there: the C-Class saloon, estate, coupe and convertible of the C-Class, E-Class coupe and convertible, GLC, GLC coupe and the SLC and SL roadsters.
The plant built 420,000 cars last year.