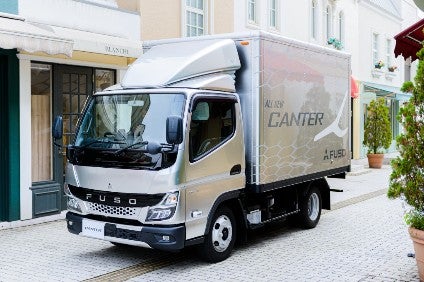 Daimler Trucks' launch of a redesigned Fuso Canter light truck in Japan this week will be followed by a gradual roll-out across other markets with European launch expected at the beginning of 2022 followed later by a new all-electric version.
"Japan of course is the home turf of the Canter and a very important market for Fuso," a Daimler Trucks Asia spokeswoman in Japan told just-auto by email.
"The new Canter will subsequently be launched in different markets in the coming months and years."
Asked about upcoming availability of a redesigned battery electric (BEV) eCanter (the current model, being trialled by real world users in Japan, US and Europe was updated last August), the spokeswoman added: "Currently Daimler engineers are continuously collecting data and feedback based on the daily operation of the [current model] vehicle, route profiles, and charging characteristics together with customers.
"This information then flows into the ongoing development of the next generation of the eCanter.
"The next generation of the eCanter with improved range and technology is expected to be introduced in the first half of this decade. Further details will be announced in due time."