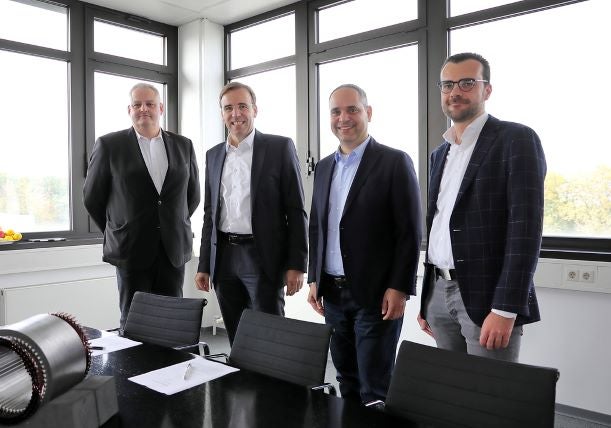 Daimler Truck and Gehring Technologies have signed a "strategic partnership agreement" for the development of commercial vehicle specific electric motors.
In a statement, the automaker said the agreement had been signed with a focus on "building up expertise in process development and prototype construction of commercial vehicle specific ('truck-e-fied') electric motors and associated new production processes and involve 'InnoLab eDrive' facilities at its truck assembly and parts making plants in Gaggenau and Kassel.
The deal with Gehring included prototype production of e-motors in a joint technical centre at Gaggenau, Daimler's so called 'competence centre' for electric drive components already supplied to the Woerth assembly plant of installation in its eActros and eEconic models.
Yaris Pursun, head of global powersystems, said: "As part of the future of our powersystems sites, the InnoLabs play an important role: analysing the powertrains of the future in terms of their commercial vehicle specific application as well as testing innovative production methods and processes. The agreement with Gehring for e-motors is an important component here."
Gehring will supply equipment for the technical centre being set up at Gaggenau.
Gehring, based in Ostfildern, Baden-Wuerttemberg, has extensive knowledge of the production of electric drive trains which includes technology to make traction drives for electrified vehicles.
These designs combine efficient electric motor characteristics with high automation capability and easily reproduced processes which are essential for large scale automotive production.
Last year, Daimler Truck and its works council agreed on key points for the future of the Mercedes-Benz powersystems plants.
The three sites in Gaggenau, Kassel and Mannheim specialise in different components for electrified drive systems and, with a sister plant in Detroit, are developing global production of battery electric and hydrogen based drive systems in a production and technology network.
Gaggenau until now has specialised in heavy duty commercial vehicle transmissions and is now being redeveloped into a competence centre for electric drive components as well as hydrogen fuel cell drive parts.
Kassel is expanding its previous focus on commercial vehicle axles and will become a centre for electric drive systems.
Mannheim, the leading plant for commercial vehicle engines, is drawing on 25 years of experience as a new 'centre for emissions free mobility' (KEM) located at the plant and focused on battery technology and high voltage systems.
As part of an early deal agreed last May with German engineering company Manz, Daimler Truck will set up its own pilot battery cell production facility at the 'InnoLab Battery' at its Mannheim plant.
Manz focuses on electromobility and has a decade's process and product experience in plant engineering for cell and battery production.
The 'InnoLab Battery' is tasked with developing and putting CV lithium-ion battery cells into productions and its findings will form the basis for future decisions regarding the "vertical range of manufacture" for Daimler Truck's own battery systems.