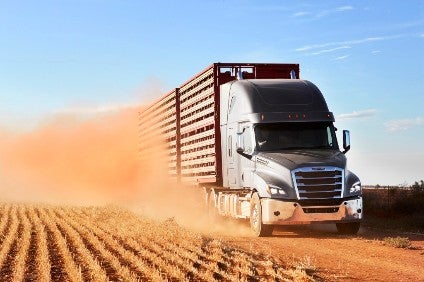 Daimler Truck said it would export a popular North American truck – in right hand drive form, of course – to Australia and New Zealand [where normal control tractors are the norm for heavy work such as logging, stock movements and Australia's multi-trailer road trains].
The Freightliner Cascadia (Class 8, >15 t perm. GVW in the US) was shown this week in Sydney to media and potential customers by Daimler Truck chairman Martin Daum and Roger Nielsen who manages the Freightliner, Western Star and Thomas Built Buses.
The truckmaker has high hopes for the Cascadia 'down under' as it enjoys a market share of around 38% and is "undisputed market leader" in the long-distance heavy haulage (Class 8) segment in the US.
Daimler Trucks North America (DTNA) has exported trucks to Australasia since 1989 but this is the first time Cascadia has been offered.
Both markets have specific regulatory requirements for heavy trucks. Daimler has engineered Cascadia for right hand drive and optimised the drive system specially for Australia where 100 tonnes permissible GVW is often exceeded. New bumpers with under ride guard, and a new cab (dust sealing is critical on unmade roads in both markets) were also developed specially for the new markets.
Cascadia was new in the US this year and now has partially automated driving functions.
The drivetrain was improved as were aerodynamics for improved efficiency and a claimed fuel consumption reduction of around 5% compared with the previous model.
The Freightliner brand is now new to Australia and New Zealand, however.
Around 20,000 trucks are in operation on both sides of the Tasman.
Daimler Trucks North America exports heavy duty, long distance trucks to 30 countries.
In 2018, it accounted for all but 40% of Daimler Trucks and Buses sales, shifting 190,000 units.