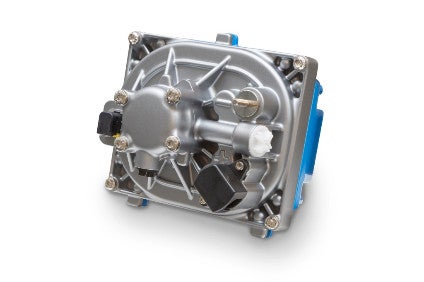 Electrohydraulic power steering (EHPS) developed in collaboration with Steyr is cutting Daimler Buses' fuel consumption, the automaker said.
Destined to be a factory option for Mercedes-Benz Citaro city buses from mid 2017, the fully integrated system replaces conventional power steering pumps fitted in all buses with a gross weight of over 7.5 tonnes.
Thanks to demand-based actuation of the electric power steering pump, previously powered by the combustion engine, steering assist can be used regardless of the engine speed, Daimler said.
The unit consists of a three-phase current synchronous motor, control unit, electrical system and hydraulic pump in a single housing, enabling easy visual inspections of the power steering reservoir and fluid level. Short hydraulic pipes reduce friction loss "significantly" within the hydraulic circuit. Intelligent control converts vehicle data to a demand-based actuation of the electrically operated 24 V pump for the right amount of steering assistance depending on driving situation.
"All in all, this adds up to a significant fuel saving," Daimler claimed without elaborating.
The system was developed by Steyr's engineering centre in St. Valentin, Austria. European Coach Week awarded it an 'Innovation Label' at the international Busworld 2015 trade fair in Kortrijk, Belgium.