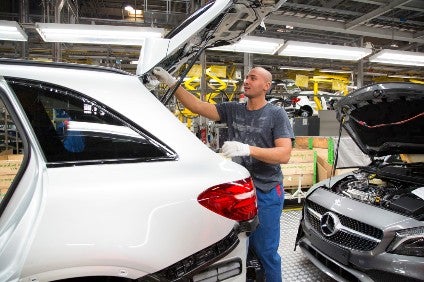 Following the successful start of GLC production at Valmet Automotive last month, Daimler's Mercedes-Benz Cars said it would continue its long-running "successful" cooperation with Finland's Valmet Automotive which will produce the next generation of compact cars at its plant in Uusikaupunki.
Valmet has built the A-Class since 2013.
"With the follow-up order for Valmet Automotive, we utilise additional production volumes for our new compact vehicles. Working with professional cooperation partners is an important strategic pillar in our flexible and efficient production network," said Mercedes production and supply chain head Markus Schäfer.
Rastatt in Germany is the automaker's compact car lead plant but there also is production at Kecskemét, Hungary and the Beijing Benz (BBAC) joint venture in China. As part of the Nissan Motor/Infiniti cooperation with the Renault/Nissan Alliance, a joint venture plant in Aguascalientes, Mexico, is currently under construction.
"With its plant in Uusikaupunki, Valmet Automotive remains the optimal add-on of the global compact car production of Mercedes-Benz Cars," Daimler said in a statement that noted production of additional units there for over three years so far.
This contract has been extended to the end of 2017 due to strong demand. Both the A-Class and the GLC are produced on the same assembly line since additional production of the mid-range SUV started in February 2017.
"The cooperation with Valmet Automotive is extremely successful. That is why we continue this cooperation for the next generation of compact cars [and gave the company] the Daimler Supplier Award 2016," said procurement and supplier quality chief Klaus Zehender.