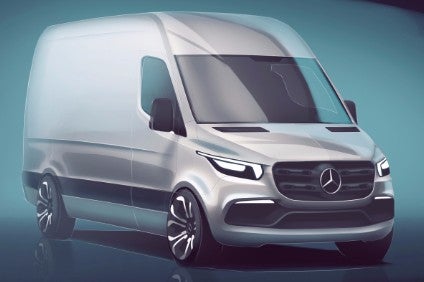 Daimler's Mercedes-Benz Vans is using North America's largest commercial vehicle show in Atlanta to unveil a lightly restyled and updated Sprinter van line, a larger model popular for e-commerce deliveries on both sides of the Atlantic.
"With its new look, the Sprinter once again shifts the boundaries of its segment. The vehicle presents itself consistently in the acclaimed design language of Mercedes-Benz and embodies the opposites of this philosophy: emotion and intelligence. The front of the Sprinter presents itself with horizontal and clearly drawn headlights in a distinctive and athletic manner," the vans unit said in a statement.
The update will bring new driving assistance systems and connectivity services in combination with new telematics which, Daimler claims, "will bring a leap forward in efficiency for vehicle and fleet management".
The brand will also offer "a considerably extended range of variants".
Europe sales will begin in the first half of 2018 with other markets to follow. Further details of the update will be announced in coming months.
"We want to do more than just build the best vehicles. We want to offer the most suitable mobility solution for every sector and for every transport assignment. And that is precisely our focus with the upcoming Sprinter generation as an overall system solution. [The new model also] possesses the classical attributes of reliability, safety and cost-effectiveness," said Volker Mornhinweg, head of Mercedes-Benz Vans, at the NACV show.
The US is one of the world's fastest growing van markets, Daimler said. After Germany, it is now Mercedes' second largest individual sales market for the Sprinter. The new assembly plant in North Charleston, currently under construction, will help meet North American demand and significantly reduce delivery times there.
A Daimler spokesman told just-auto bodies and drivetrain chassis subassemblies for Sprinter vans destined for the US will be packed and shipped as SKD kits for final assembly in North Charleston. Production of complete vehicles will also continue in Germany in Dusseldorf and Ludwigsfelde.
Mercedes-Benz Vans said the introduction of the revised Sprinter "is more than the presentation of a new model" because it reflects its future initiative adVANce, presented in autumn 2016, and aims at megatrends such as digitalisation and urbanisation.
"The accompanying realignment of the company is driving forward the transformation from purely a vehicle manufacturer to a provider of complex, comprehensive mobility solutions. The first new model to represent this further development is the new Sprinter."
Since launch in 1995 (early generations were shared with Volkswagen which sold the model as the Crafter), Daimler has sold 3.3m in 130 countries. First half 2017 sales increased to a record 96,200 units versus 95,100 in H1 2016.
Daimler at the NACV show is also displaying its Freightliner, Fuso and Western Star brands, claiming a market share of "over 40% and to be "the undisputed No. 1 in the US commercial vehicle market".