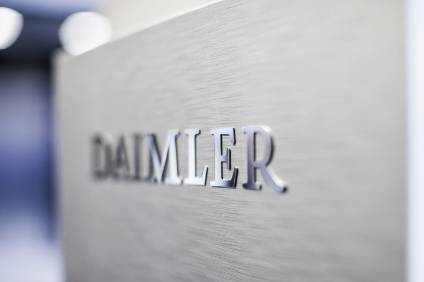 After posting a disappointing set of preliminary financial results for the second quarter, Daimler has revised its full-year 2019 results projections down. Higher provisions for Takata airbag recalls and a regulatory crackdown on diesel emissions dragged Q2 operating profit down.
Daimler said it achieved a group EBIT for the second quarter 2019 that is 'significantly below market expectations' with a loss of EUR1.6bn (compares with an operating profit of EUR2.6bn in same quarter last year). The EBIT results for Q2 show losses in the Mercedes-Benz car and van business units:
Mercedes-Benz Cars: minus EUR0.7bn (Q2 2018: EUR1.9bn)
Daimler Trucks: EUR0.7bn (Q2 2018: EUR0.5bn)
Mercedes-Benz Vans: minus EUR2bn (Q2 2018: EUR0.2bn)
Daimler Buses: EUR0.1bn (Q2 2018: EUR0.1bn)
Daimler Financial Services: EUR0.4bn (Q2 2018: EUR0.1bn)
Daimler said a number of major items had an adverse impact on EBIT during the second quarter, including provisions for the Takata airbag recalls and court proceedings in relation to a regulatory crackdown on diesel emissions.
Daimler said 'new information led to a revised risk assessment with regard to provisions for an extended recall in Europe and Rest of World in connection with Takata airbags'. Provisions had to be increased by around EUR1bn.
EBIT was also impacted by a 'reassessment made today in connection with ongoing governmental and court proceedings and measures relating to Mercedes-Benz Diesel vehicles in various regions, which led to an increase in expected expenses by around EUR 1.6bn'.
The company also said a decision by the Board of Management in the context of the product portfolio review and prioritisation will affect earnings of the Mercedes-Benz Vans division in the second quarter 2019 by around EUR0.5 billion.
When reassessing the earnings outlook for 2019 it also said there was an impact from 'slower product ramp-ups affecting product availability throughout 2019 and lower growth in automotive markets than expected'.
Daimler said it has the following 2019 outlook for group EBIT and for the Return on Sales (RoS) of the divisions:
Outlook for group EBIT now expected to be significantly below prior year level (previously in the same magnitude);
Mercedes-Benz Cars now expected to be 3 % to 5 % RoS (previously 6 % to 8 %);
Daimler Trucks unchanged 7 % to 9 % RoS;
Mercedes-Benz Vans now expected to be minus 15 % to minus 17 % RoS (previously minus 2 % to minus 4 %);
Daimler Buses unchanged 5 % to 7 % RoS;
Daimler Financial Services unchanged 17 % to 19 % Return on Equity
The free cash flow of the industrial business for the second quarter 2019 is expected to be below the respective previous year quarter.
For the financial year 2019 the free cash flow of the industrial business can no longer be expected to be slightly higher than 2018, Daimler said.
In April, Daimler posted first-quarter profit down 16% and warned at the time that its financial targets have become harder to achieve. CEO Dieter Zetsche said the results fell short of the company's expectations as it was hit by higher costs and lower sales.
See also:
Model changeovers cost Mercedes-Benz half year sales