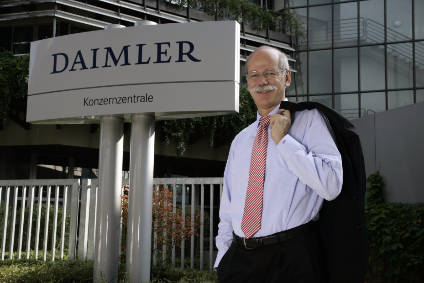 Daimler has reaffirmed its financial targets for this year and stressed the need for cost management at its annual shareholders' meeting in Berlin today. Outgoing CEO Dieter Zetsche stressed that 'everything is under scrutiny' to get costs down after what has been a 'moderate' start to the year.
"It is the group's job to limit the costs of new technologies in the car for the customer," he said. "To do so, we have to cut costs and increase efficiency throughout the company. Everything is under scrutiny: fixed and variable costs, material and personnel costs, investment projects, vertical integration and the product range," said Zetsche. "The goal is to return Mercedes-Benz Cars and Mercedes-Benz Vans into the profitability corridor of 8-10% by 2021."
He struck a slightly downbeat tone on the start to the year. "Our start to the year 2019 has been moderate," he said. "This was expected, but it doesn't make it any better. In particular, we cannot and will not be satisfied with the current level of profitability. In general, framework conditions will not become easier. Along with external factors, we are now also feeling the financial effects of the company´s transformation," said Zetsche. "Over the past five years, our annual investments have risen by more than 50%. At Mercedes-Benz Cars, research and development expenditure actually almost doubled."
After more than 13 years as chairman of the Board of Management of Daimler AG and head of Mercedes-Benz Cars, Dieter Zetsche will step down from his position at the end of the Annual Shareholders' Meeting. With effect at the end of a two-year cooling off period, the Supervisory Board intends to propose to the 2021 Annual Meeting that Zetsche be elected to the Supervisory Board.
"With Dieter Zetsche an exceptional executive is leaving. As a longstanding member of the Board of Management and as chairman of the Board of Management, he has played a key role in shaping Daimler AG, whether through the necessary separation from Chrysler, overcoming the financial crisis in 2008/09, or realigning the product range and design. Dieter Zetsche not only motivated the entire company with his target 'We want to be the number one premium manufacturer again,' but also achieved it ahead of schedule in 2016 compared with the target set for 2020," said Manfred Bischoff, chairman of the Supervisory Board of Daimler AG. "He has successfully led Daimler back to the top, also through difficult terrain. Together with the employees, he has pushed forward the company's fundamental transformation. Under his leadership, Daimler has laid the foundation for a good future. He deserves our unqualified gratitude," said Bischoff.
Dieter Zetsche will hand over to his successor, Ola Källenius. Källenius, 49, moves up from head of development at Mercedes-Benz Cars.
Daimler AG continued to increase its unit sales and revenue in 2018 despite generally difficult conditions, but profits were down.
The company is in the midst of a re-organisation, with plans to combine the car and van businesses as well as the truck and bus businesses into two legally independent entities by way of a spin-off. The new corporate structure could take effect on 1 November 2019. From that date onwards, Mercedes-Benz AG is to be responsible for the Mercedes-Benz Cars and Mercedes-Benz Vans divisions, while the Daimler Trucks and Daimler Buses divisions are to be controlled by Daimler Truck AG. Daimler Financial Services AG, which is already legally independent, will be called Daimler Mobility AG from 24 July 2019 on. The two new companies, like the current Daimler AG and the future Daimler Mobility AG, would be co-determined German stock corporations subject with registered offices in Stuttgart. Daimler AG a publicly listed parent company, will perform the functions of governance, strategy and control, and is to provide group-wide services. With three strong entities under a common umbrella, Daimler says the group will be more 'flexible and focused'.
With the new structure, Daimler wants to give its divisions more entrepreneurial freedom, strengthen market and customer orientation, and make cooperation easier and faster. By focusing the new companies on their customers, markets and core competencies, new growth and earnings potential can be utilised. In addition, strengthening Daimler's divisional structure serves the goal of retaining existing investors over the long term and attracting new investors and partners.
"Daimler aspires to be a leader in the new era of mobility. This requires a high degree of innovativeness and flexibility in order to react quickly to changes, to take advantage of new growth opportunities and to continue being successful in the future. With Project Future, Daimler is giving itself a corporate structure that reflects and supports its strategic orientation," said Bischoff.
For the current year, Daimler continues to expect to be able to 'slightly increase' its unit sales (2018: 3.4m vehicles). A further slight increase in revenue is anticipated. In a still volatile environment, the company expects Group EBIT to continue to rise slightly overall.
See also: Daimler profits down 16% in Q1