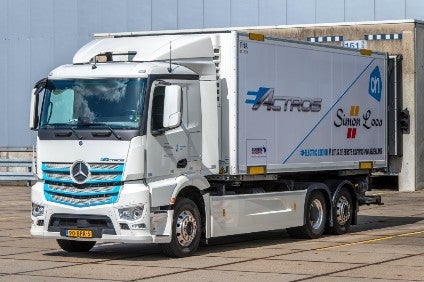 After a year of intensive practical use by 10 customers in Germany and Switzerland, Daimler is trialling eight more purely battery-powered eActros trucks with new customers in Germany, Belgium and the Netherlands.
Two vehicles will continue operational testing with customers in the first test phase.
Simon Loos, a logistics service in the Netherlands, will receive the first truck of the second phase.
It is using an eActros equipped with a refrigerated box for the Albert Heijn supermarket chain. The daily route starts at a regional distribution centre in Delfgauw in South Holland. From there, the e-truck supplies stores in various cities in the region, including Rotterdam, The Hague and Delft, with dry goods and fresh, temperature controlled food.
The truck will run seven days a week, covering around 200km (120 miles) every day in a locally CO2-neutral operation. The batteries will be charged overnight and in between routes at the distribution centre in Delfgauw, where Albert Heijn is currently installing multiple fast chargers.
In preparation for the test, Mercedes-Benz Trucks gave the Simon Loos drivers special training in the use of high voltage systems.
One of the many findings gained so far from the first test phase is that the 200km range has proven to be realistic regardless of load, route or topography. The cooling system for the cargo and the air conditioning system – both electrically operated – functioned without any limitations in both extreme heat and winter conditions. Drivers are very pleased with the continuous availability of torque across the entire speed range. They also particularly mentioned the truck's quietness in operation and the pleasant, smooth driving experience. If the truck is driven with foresight, electrical energy can be recovered through recuperation so it is then rarely necessary to use the brake pedal.
The development and testing of heavy duty electric trucks in distribution transport is receiving support from Germany's Federal Ministry for the Environment (BMU) and Federal Ministry for Economic Affairs and Energy (BMWi), as part of the Concept ELV² project.