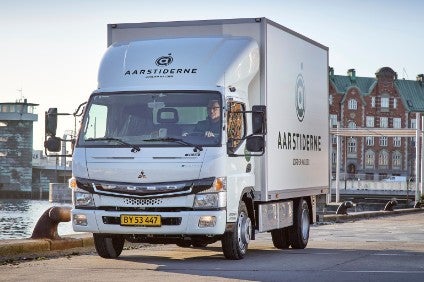 The number operating worldwide is still a tiny 150 but Daimler Trucks has now extended use of its all-electric Fuso eCanter light delivery truck to Scandinavia which it describes as "Europe's leading region in terms of sustainability".
Two are now operating in Denmark capital Copenhagen with Citylogistik and Aarstiderne.
Daimler claims the electric light duty truck is the answer to the need for a zero emission and zero noise truck for inner city distribution.
It is now operating running in nine cities in Germany, the UK, France, Portugal, the Netherlands and Denmark.
The 7.9 tonne truck has a range of 100km (62 miles) which Daimler reckons is is well suited to inner city, short range distribution operations.
The eCanter is, so far, the only EV light duty truck in small series production which started in 2017.
After four more deliveries this month to two customers in Japan, around 150 vehicles are now running with operators in Japan, the US and Europe.
More deliveries are due, Daimler said.
The group also now produces electric buses and heavy trucks.