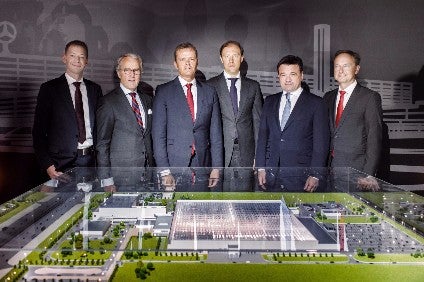 Daimler's Mercedes-Benz has started construction of a EUR250m fully flexible passenger car assembly plant in Russia where it has so far concentrated on commercial vehicle production (partnerships with GAZ and YaMZ).
"Establishing passenger car production in Russia is a strategic investment in an important sales market for Mercedes-Benz. We are extending our local footprint and, at the same time, strengthening our global competitiveness," said Markus Schäfer, Mercedes-Benz Cars' production and supply chain head, at a groundbreaking ceremony.
The new passenger car plant in the Moscow region is scheduled to start local production in 2019 with the E-Class sedan. GLE, GLC and GLS SUVs will follow.
Production will be managed by newly founded Mercedes-Benz Manufacturing RUS (MBMR), headed by Axel Bense.
"With the fully flexible production of the E-Class Sedan and the SUV models, we will produce our best sellers for the regional market at the Moscovia plant. I am convinced that Bense, who has many years of experience in the Russian market, will implement the project very successfully," Schäfer added.
With a broad sales network and a large range of models, Mercedes-Benz in 2016 was the top selling premium brand in Russia for the fourth consecutive year. In the last 10 years, the company has quadrupled its passenger car sales in Russia.
Daimler said the Moscow region has very good logistical connections, close to the capital and highly qualified workers are available. The Moscovia passenger car plant is part of the Esipovo industrial park and will cover all production steps from body shop to paint shop and final assembly on a land area of around 85 hectares.
The production facilities will be configured for maximum flexibility so several architectures can be produced on one assembly line. An autonomous material flow and convertible plant technology allows reaction to customer demand even faster. Through the use of warehouse baskets for supplying the assembly lines, different model series and derivatives can be integrated into series production. A so-called one-roof concept enables fast throughput times between the shops, efficient production and short distances for the employees.
The Moscovia plant will be connected with other Mercedes-Benz sites around the world which means that every system and robot can be controlled and reprogrammed remotely. Environment- and resource-friendly production will be implemented through the concept of a paperless factory, heat recovery in the paintshop and the use of electric forklifts in plant logistics.
More than 1,000 new jobs are being created at the site.