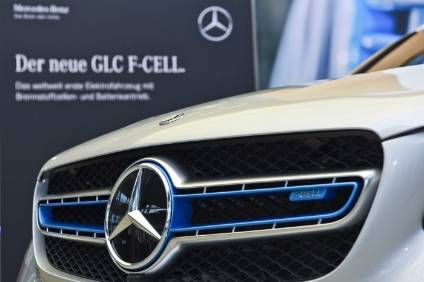 Daimler has said that it expects this year's vehicle sales tally to be at the same level as last year, as the global semiconductor shortage continues to bite. It had previously said it expected a sales gain for 2021 as markets recovered from the pandemic.
The company refreshed its full-year guidance as it issued Q2 financials, which showed a strong swing to profit versus Covid-ravaged Q2 of 2020.
Second quarter sales for the company Unit sales increased by 36% to 736,400 passenger cars and commercial vehicles, with revenues at EUR43.5 billion (Q2 2020: EUR30.2 billion)
Q2 operating profit (EBIT) was posted at EUR5,185 million (Q2 2020: minus EUR1,682 million)
Group net profit for Q2 was EUR3,704 million (Q2 2020: net loss of EUR1,906 million).
"We achieved a strong performance across all divisions in the second quarter. At Mercedes-Benz Cars and Vans, we posted double-digit margins for the third quarter in a row and thus demonstrated the resilience of our business – despite the persistently low availability of semiconductors. The entire industry is currently struggling with longer delivery times, which unfortunately also affect our customers. We are doing what we can to minimize the impact. Given the high demand for our vehicles, delivery to our customers has top priority," said Ola Källenius, Chairman of the Board of Management of Daimler AG and Mercedes-Benz AG. "Our transformation towards emission-free and software-driven mobility is supported by a high level of free cash flow in the industrial business. We are implementing our strategy at full speed."
Daimler said it expects a gradual normalization of economic conditions in its major markets. The company assumes that the world economy will be able to recover from the pandemic-related weakness of the year 2020, aided by the increasing availability of effective vaccines, among other things.
Furthermore, the company assumes that the worldwide shortage of supply of semiconductor components will affect the business also in the second half of the year. Daimler also warned that the visibility of how the supply situation will actually develop further is currently low. Based on the expected market development and the current assessments of the divisions, Daimler anticipates revenue and EBIT in 2021 to be significantly above the prior year's level.
However, Daimler also said it assumes that the current worldwide supply shortage of semiconductor components will affect Mercedes-Benz Cars unit sales also in the third quarter. Mercedes-Benz Cars unit sales could be in the magnitude of the second quarter or below. Full year unit sales are expected to be at prior year level (previously: significantly above).
Daimler also said the spin-off of Daimler Truck, including significant parts of the related financial services business, will be examined before the end of 2021.