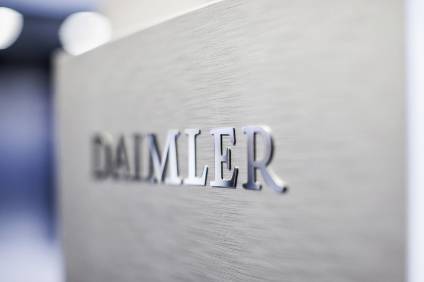 Daimler has reported fourth quarter profit down by 22% as it was hit by new tariffs on trade, higher raw material prices, 'diesel measures' costs as well as rising costs associated with developing advanced automotive technologies.
Daimler EBIT – earnings before interest and taxes, operating profit – in the fourth quarter of 2018 was put at EUR2,669m, 22% under the previous year's fourth quarter, although Q4 revenue was up 7% to EUR46,610m. Most of the fourth quarter EBIT drop was in the Mercedes-Benz Cars and Mercedes-Benz Vans divisions.
Over the year as a whole, Daimler group unit sales were up by 2.4% to 3.4m vehicles (2017: 3.3m).
In 2018, group revenue was up of 2% to EUR167.4bn, but group EBIT was also down around 22%. Net profit for the year was posted at EUR7.6bn, down from EUR10.6bn in 2017.
Daimler said the negative earnings development reflects higher expenses in connection with 'ongoing governmental proceedings and measures relating to diesel vehicles'. In addition, EBIT was also reduced by advance expenditure for new technologies and vehicles, as well as by weaker pricing. Unfavourable exchange-rate effects and higher expenses for raw materials also affected earnings adversely.
Dieter Zetsche, Chairman of the Board of Management of Daimler AG and Head of Mercedes-Benz Cars said that Mercedes Cars was hit by increased tariffs on vehicles imported to China from the United States and delivery stoppages for individual diesel models. Vehicle certification also took longer than usual in some cases and had an impact on availability.
Neverthless, Daimler said the outlook for 2019 is for 'slight growth in unit sales, revenue and EBIT'.
"For Daimler, 2018 was a year of strong headwinds. This is also reflected in our financial results and our share price," said Zetsche. "Nonetheless, we faced those headwinds and made substantial progress on key areas for the future. That was not least the result of our strong core business. But for all the divisions, it applies: a profitable business is a prerequisite for continuing to invest in new technologies and products in the future."
For the current year, Daimler said earnings will be adversely affected by ongoing high advance expenditure for the model offensives and innovative technologies. Additional factors will be a significant increase in raw material costs and exchange-rate effects.
Daimler also said it is getting ready for its new mobility venture with BMW. It said the new mobility services company, Daimler AG and the BMW Group, will present the next steps to be taken in the first quarter of 2019. Headquarters of the new joint mobility-services company will be located in Berlin. The goal is to jointly create a major player for seamless and intelligently connected mobility services. As a hub for creativity and innovation, Berlin is exactly the right location. The 50-50 joint venture will bring together the following five services: an on-demand mobility and multimodal mobility platform, car sharing, ride hailing, parking, and charging.
In 2019, the first all-electric SUV from Mercedes-Benz is to be launched: the EQC. By the year 2022, the product portfolio is to include more than 130 electrified variants. This will include all-electric vehicles, plug-in hybrids and models with 48-volt technology.
By the year 2025, depending on the development of the public infrastructure and on customer preferences, 15 to 25% of the cars sold by Mercedes are to be purely electric, the company said. To achieve that, Mercedes-Benz Cars plans to launch more than ten all-electric cars on the market.