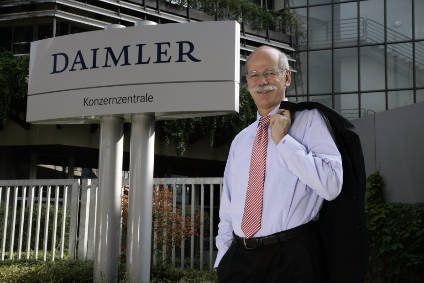 Daimler has posted Q3 earnings (EBIT) down 27% on last year as its bottom line was squeezed by slower sales in the German market weighed down by regulatory actions against diesels.
There was also a slight decrease in Q3 unit sales to 794,700 vehicles (-4% on last year). However, revenues were close to the prior-year level at EUR40.2bn (Q3 2017: EUR40.7bn).
The group EBIT was posted at EUR2.5bn (Q3 2017: EUR3.4bn; a decline of 27%) for a net profit of close to EUR1.8bn (Q3 2017: EUR2.2bn).
Daimler said a slight increase in unit sales and revenue and a 'significant decrease in Group EBIT' are expected for full-year 2018.
Dieter Zetsche, Chairman of the Board of Management of Daimler AG and Head of Mercedes-Benz Cars, said in a statement: "The automotive industry and thus also Daimler are still in a very challenging environment. The continued high demand from our customers makes us confident for the fourth quarter."
Bodo Uebber, Member of the Board of Management of Daimler AG for Finance & Controlling and Daimler Financial Services said: "Despite the volatile environment, it is important and right for Daimler to invest in the future. In doing so, we profit from our strong balance sheet and from our global and diverse refinancing possibilities."
EBIT at the Mercedes-Benz Cars division was significantly lower than in the third quarter of last year, due in particular to a decrease in sales volume and expenses in connection with 'governmental proceedings and measures for diesel vehicles'. EBIT declined by 35% at Mercedes-Benz Cars to EUR1.37bn.
However, Daimler Trucks achieved significantly higher earnings than in the prior-year period, primarily as a result of increased unit sales in the NAFTA region. Mercedes-Benz Vans did not achieve EBIT of the third quarter of 2017. Daimler Buses' earnings in the third quarter of 2018 were slightly lower than in the prior-year period. The increased level of interest rates was the main reason for a decrease in earnings at Daimler Financial Services. Exchange-rate effects had an overall negative impact on the group's operating profit.
Sales of Mercedes-Benz Cars, a division that includes the Smart brand, are expected to reach last year's level, Daimler said, after reporting a 6% drop in car deliveries in the third quarter.
Earnings were also hit by a provision taken after a court ruling confirming a ban on the R134a air conditioning fluid used in Mercedes-Benz cars, Daimler said.