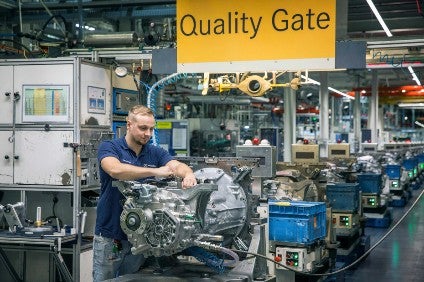 Daimler's Gaggenau plant near Rastatt has made its five millionth commercial vehicle transmission – a 12-speed automated G330 unit which will be exhibited in the factory.
The plant in the northern Black Forest region built its first transmissions – for the Mercedes-Benz Unimog – in 1951. Production of medium-and heavy-duty transmissions for trucks and buses followed in 1955. Now part of a global production network, Gaggenau delivers drive assemblies and components worldwide: to the truck assembly plant in Woerth in Germany's Rhineland-Palatinate region; to the Turkish plant in Aksaray; to Brazil, Japan, India, Mexico and the US.
The transmissions are fitted in seven Daimler Truck and Bus brands: Mercedes-Benz, Setra, Fuso, Western Star, Freightliner, Thomas Built Buses and BharatBenz.
Automated transmissions have been produced at the plant since the 1990s. Truck and bus transmissions of the current generation weigh between 200 and 300kg, are over a metre in length and house 15 individual cogs and ripples.
Until 1965, when the Woerth plant opened, cab over engine trucks were produced in Gaggenau. After that, production focussed on transmissions, axles and components for commercial vehicles and the Unimog.
Whilst production of the first million manual transmissions took just over 20 years, only six years were needed for the fifth million.
For over a decade, Daimler Trucks has used one uniform platform for the drivetrain for heavy-duty trucks. This comprises for the most part the engine, axles and transmission. The transmission generation, in which production and the major components are standardised, is designed such that it can be adapted flexibly and individually to customer and market demands in the US, Europe and Japan using the same technology. Detroit Diesel began series production of the automated DT12 transmission for the NAFTA market in 2015.
Gaggenau staff helped their colleagues with the run-up in Detroit and trained them in production processes.
Gaggenau plant was founded in 1894 as Bergmann-Industriewerke GmbH and is the oldest automotive manufacturing plant in the world.