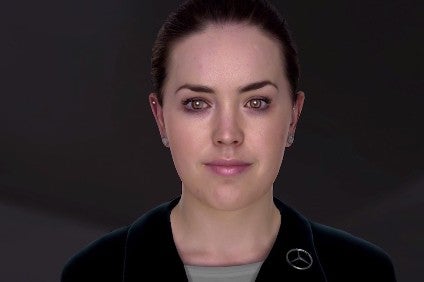 Daimler Financial Services (DFS) has been trialling a digital avatar called 'Sarah' to answer most frequently asked customer questions during an internal pilot at one of the company's call centres in the US.
Following satisfactory trials, DFS has now invested in the New Zealand-based company, Soul Machines, which developed the emotionally intelligent avatar, to further develop artificial and emotional intelligence for a multi channel, customer service pilot.
Chief information officer Udo Neumann said: "After successfully testing how artificial intelligence helps our employees better service customers, we are now investing in a disruptive technology to further enhance the customer experience."
Daimler described the Kiwi startup as "a world leader in the field of emotional intelligence for use in machines and digital avatars".
The automaker added it was the first premium brand automaker to develop emotional intelligence use cases based on Soul Machine's technology.
DFS and Soul Machines first showed off 'Sarah' at the Mobile World Congress in Barcelona last February.
Since then, 'she' successfully answered the questions during the internal pilot.
DFS plans to use Soul Machines' technology to optimise customer experience through artificial and emotional intelligence. Digital avatars like 'Sarah' will be able to support customers like a personal concierge. Thanks to emotional intelligence, the machine will be able to recognise diverse individual customer needs and offer the right information at the right time.
"For customers, this means communicating with a convenient, voice controlled and emotionally intelligent touchpoint. This brings DFS to the forefront of a changing environment, as the share of online business is increasing significantly and customers are making their purchasing decisions on digital platforms," the automaker said.
Benedikt Schell, DFS chief experience officer, said: "Customers expect intuitive, time-saving services that are available 24/7 through the channel that is most convenient for them. With the investment in Soul Machines we are laying an important foundation to not just meet, but exceed these customer expectations."
Digital avatars: machines with emotional intelligence
Soul Machines is a New Zealand company, founded in 2016, specialising in digital avatars and emotional intelligence. The company brings technology to life by creating life-like, emotionally responsive, artificial humans with personality and character that allows machines to talk to humans face-to-face.
"As we continue to lead the world in advanced AI technology and development of digital humans across a broad spectrum of industries, this strategic investment from DFS puts us in an even better position to quickly develop and test our disruptive technology in the automotive sector together with our great partner," said the company's chief business officer Greg Cross.
Neumann added: "Emotional intelligence will play a crucial role in adapting services, such as car financing, leasing and insurance, car sharing or ride-hailing to customers. Different from today's voice-based, assistance technology, 'Sarah' will be programmed to recognise non verbal behavior in real time using face recognition."
Soul Machines employs AI researchers, neuroscientists, psychologists, artists and 'innovative thinkers'. It said its claimed world first digital avatars are now being used by "some of the biggest corporate brands" in banking and finance, software and technology, automotive, healthcare, energy and education.