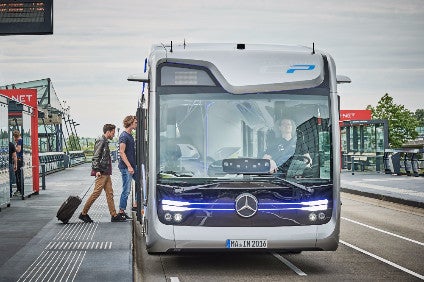 Daimler's Mercedes-Benz bus unit said on Monday its new, semi-automated city bus with CityPilot shows what urban public transport will look like in the future because it operates more safely, efficiently and comfortably than today's conventional buses.
Trials using 'connectivity plus camera and radar systems with data fusion' in the 'Future Bus with CityPilot' have resulted in a vehicle capable of driving itself over a 20km (12 mile) route in the Netherlands, Daimler said.
"Together they set a milestone, both in the history of the bus and on the way to autonomous and accident-free driving. Daimler is the leading manufacturer of vehicles with automated driving functions. With the Mercedes-Benz Future Bus, Daimler Buses is now presenting its very specific idea of a city bus of tomorrow," the automaker said in a statement.
Technology
The technology that allows the bus to move along its dedicated route and communicate with its surroundings is based on that of the autonomously driving Actros truck with Highway Pilot presented two years ago. Substantial further development, specifically for use in a city bus, included numerous added functions. For example, the bus is able to recognise traffic lights, communicate with them and safely negotiate junctions controlled by them. It can also recognise obstacles, especially pedestrians on the road, and brake autonomously. It approaches bus stops automatically, and opens and closes its doors. It is also able to drive through tunnels.
Twelve cameras scan road and surroundings while long and short-range radar systems monitor the route ahead. GPS is also fitted. Data fusion creates a precise picture and allows the bus to be positioned to within centimetres, the automaker claimed, proving the point with the bus successfully navigating the exacting 20km route with a number of tight bends, tunnels, numerous bus stops and at up to 70km/h (about 40mph), a high speed for a city bus.
Daimler claims its semi-automated bus improves safety because it reduces the driver's workload while "nothing remains hidden from its cameras and radar systems". The smooth, predictive driving style increases efficiency by reducing wear and tear and lowering fuel consumption and emissions.
"With its smooth and even rate of travel it also improves the comfort of its passengers," the automaker said.
Technology platform with 'trailblazing design'
Mercedes-Benz said it is presenting City Pilot in the Future Bus as a technology platform. Twelve metres long, the bus is based on the globally sold Citaro model but with completely new exterior and interior designs.
The open-plan interior design is said to have been influenced by city squares and parks. The passenger compartment is divided into three zones for different lengths of stay with 'designer' seats arranged loosely along the walls in each zone. Grab rails reflect the park theme by branching upwards like trees towards the two-tone ceiling on which lighting resembles a leaf canopy.
Operators are able to relay information and entertainment via large monitors in the middle segment of the passenger compartment.
The completely new cockpit delivers information to the driver on a large screen with 'innovative' display.
The bus made its first public journey on part of Europe's longest Bus Rapid Transit (BRT) route in the Netherlands which links Amsterdam's Schiphol airport with Haarlem.
According to Daimler, on this trip the driver did not need to operate the accelerator or brake and only took the wheel in accordance with traffic regulations when faced with oncoming traffic. However, the driver was able to intervene at any time and immediately take control if required.
The automaker claims the bus is "ideally suitable for BRT systems with which it is possible to resolve worldwide traffic problems in densely populated areas and metropolitan regions".