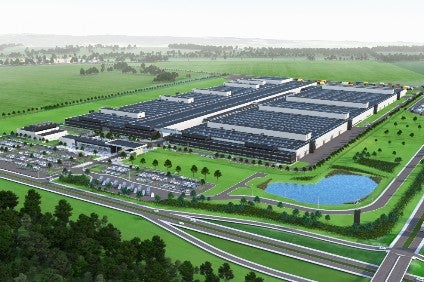 Daimler's Mercedes-Benz Cars said it had almost completed construction work on a new engine plant in Jawor, Poland, with the basic structure of the new factory in place.
The CO2-neutral factory will employ more than 1,000 people, 500 more than announced at last year's groundbreaking.
The company has decided to create 500 additional jobs at the site to cope with high demand for its our cylinder engines.
"We will build highly efficient engines for our hybrid vehicles and conventionally powered passenger cars. The construction of this plant is an investment in the future and an important milestone on our way to the mobility of the future," said production and supply chain head Markus Schaefer.
The factory will produce four cylinder diesel and petrol engines for hybrid and conventional vehicles and will supply assembly plants around the globe.
The different engine variants will be produced alongside the corresponding crankcases on flexible lines enabling quick reactions to market demand. The engines produced in Jawor will combine modern engine technology and partial electrification using 48 volt technology.
Daimler relies on the coexistence of different drive technologies with an intelligent modular system consisting of highly efficient high-tech combustion engines in combination with 48 volt on-board electrical systems, as well as hybridisation and purely electric drives with batteries or fuel cells. These are optimally tailored to the respective customer needs and vehicle types.
"As a 'green field' project, the new engine plant offers an excellent opportunity to establish an integrated production concept on a newly built site. Jawor will be our benchmark regarding green high-tech production. It is of course a challenge to transfer the same measures into existing, historically grown factories in our powertrain production network, but it is our aim to implement as many as possible, using Jawor to test feasibility," said powertrain production chief Frank Deiss.
Mercedes-Benz Cars is among the first large industrial companies in Poland to sign contracts with local green power and heat suppliers and the site will be among the first CO2-neutral factories for the company.
100% of the electricity will be obtained from renewable energies and the heat requirement is obtained via a power plant directly at the factory fence which provides the energy from renewable raw materials such as wood chips. About 600 sensors will record energy consumption, which can be accessed and controlled on touch screens in real time, reducing the energy requirements of the factory.
Industry 4.0 applications such as real-time management information and digital shop floor management will play an important role. Within logistics, driverless transport systems will be used to transport materials, which can be tracked and traced using RFID (Radio Frequency Identification), making physical inventory unnecessary. Other measures planned are the use of augmented reality and big data analyses to support workers during assembly processes, avoid errors at an early stage and prevent machine failures. The goal is to also become paperless in production and in administrative areas.
The factory has a production area of 180,000 sq m, 40,000 larger than initially planned, on a site of 50 hectares. Series production of engines is scheduled to start in 2019.