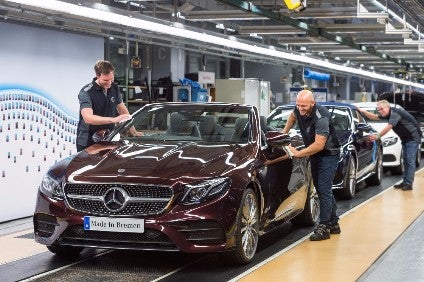 Daimler said it (again) broke records for unit sales and revenue in the second quarter of 2017 though net profit was flat.
Group revenue rose 7% year on year to a record EUR41.2bn. EBIT was up 15% to EUR3,746m while net profit improved to EUR2,507m from EUR2,452m.
Earnings per share was EUR2.28 versus EUR2.27.
Car and commercial vehicle unit sales rose 8% to 822,500 units, also a record. Mercedes-Benz Cars volume was up 9% to 595,200, vans were up 4% to 103,400 and truck sales 8% to 116,400.
"We had an excellent second quarter, " said chairman Dieter Zetsche. "Our strategy is taking effect. We have set ourselves ambitious goals. And we are achieving them – in terms of unit sales and profitability. Step by step, we are optimising efficiency throughout the group. The transformation of Daimler is going ahead at full speed. And we have everything we need for it: the resources to invest and the scope to innovate."
Strong (recently updated) E-class and SUV sales boosted the Cars division earnings but the automaker cautioned special items had a negative impact on Q2 2016 profit.
Trucks division results "reflect expenses for customer-service measures" and, despite efficiency gains, did not match previous year Q2 earnings. Vans and Buses EBIT was also lower than in the the previous year.
But the automotive business operating return on sales again achieved target – 9.2% versus 8.3%.
Daimler Financial Services division's EBIT was slightly above last year's as exchange rate effects had a positive impact on operating profit at all divisions.
Outlook
Daimler said it "expects to significantly increase its total unit sales" this year as it continues to launch new E- and S-class models, some new GLCs and electric Smarts.
It said group revenue would "increase significantly" along with group EBIT.