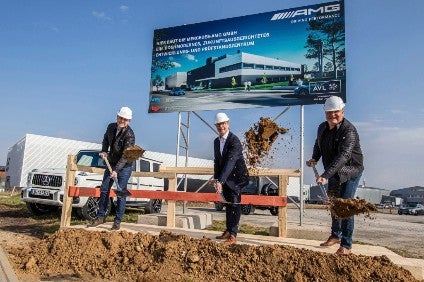 Daimler's Mercedes-AMG has broken ground for its new Technikum technology centre at Affalterbach.
The new technology centre – 5,000 square metres on three levels – will be completed between Benz- and Maybachstrasse in Affalterbach by 2022.
It is a new, highly automated test area for the development of electrified high-performance powertrains and electrical components with all-wheel test stands and a high-voltage battery test stand. There is room for further expansion in stages.
Mercedes-AMG chairman Philipp Schiemer said: "With the construction of the technology centre, we are underlining our clear commitment to the Affalterbach location and continue to gear ourselves towards the future,"
CTO Jochen Hermann added: "We will be able to test vehicle components and prototypes under realistic conditions and put them to the acid test at an early development stage. In this way, we not only save time in the development process, but also improve the quality of the results."
All-wheel test stands will help engineers simulate driving and environmental conditions. The four wheel hubs of a vehicle are connected to the four machines of a test stand and reflect realistic driving resistances to reproduce street-like handling characteristics. One of the test stands is also equipped with a climatic/altitude chamber. It uses a vacuum to reproduce an altitude of up 5,000 metres above sea level at a temperature as low as -30°C. The developer does not sit in the vehicle during the tests, but controls it from the operator room in an automated process.
By using test stands, fewer CO2-emitting test kilometres in real-world operation are required.
The high-voltage test stand with climatic chamber will test high-voltage batteries developed at Affalterbach in a temperature range from -40 to +80°C in a fully automated process. This will makes it possible to test nearly every conceivable circumstance that a battery system could face during its service life. The focus in this context is particularly on safety, long-term durability as well as on function and performance under extreme conditions. The extensive measurement technology of the test centre and the high level of automation result in reproducible and legally compliant test conditions.
The new building will be 'green' with equipment such as heat recovery systems and a large cistern for energy storage. The building will be heated mainly with own process waste heat. Excess heat can be supplied to an interconnected local heating system.