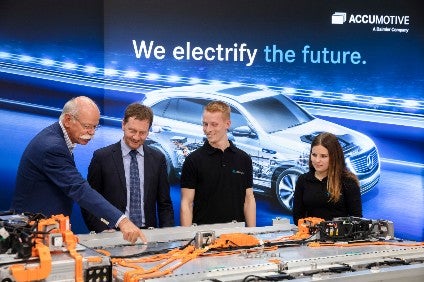 Daimler said battery subsidiary Accumotive at Kamenz in Germany would employ around 1,000 people by the end of 2018, a year earlier than planned.
"We are heading for the start of production of the EQC in spring 2019," chairman Dieter Zetsche said during a factory tour by German politicians.
Accumotive was founded in 2009 and is producing lithium ion-batteries for Mercedes-Benz and Smart. A second EUR500m battery factory is being built at the site.
By 2022, the entire Mercedes-Benz range will be electrified with at least one electrified model in all segments – around 130 in total.
Ten will be fully electric passenger cars. The first from technology brand EQ will be the EQC with production beginning in spring 2019 in Bremen for a mid-year market launch.
Daimler is spending EUR1bn on a global battery production network of eight factories at six locations on three continents. In Germany these are Kamenz and Stuttgart-Untertuerkheim with two battery factories each plus Sindelfingen, Beijing (China), Bangkok (Thailand) and Tuscaloosa (US).
The second battery factory in Kamenz started pre-series production in mid-2018 and volume production of the EQC battery will follow next spring.
The second factory quadruples the production and logistic area in Kamenz to 80,000 square metres.
Since 2012 Kamenz has produced 200,000 li-ion batteries.
Daimler's electric commercial vehicles also used batteries from the Saxony plant – the Mercedes-Benz Vito and Sprinter vans due for launch in 2019 plus the Fuso eCanter.