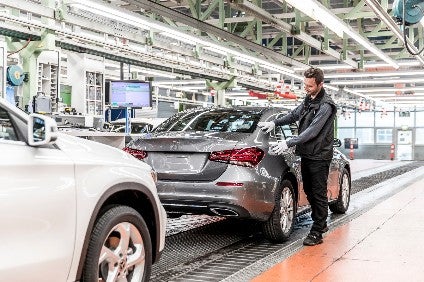 Daimler AG has reported net profit for 2019 of EUR2.7bn, down from EUR7.6bn in 2018. The fall to profitability comes in spite of record sales of Mercedes-Benz cars, but reflected a number of special items including additional diesel probe legal costs and Takata airbag recall costs. There was also an impact from heavy investment in advanced technologies.
The company also said there would have to be comprehensive measures to increase efficiency including the significant reduction of material and administrative costs and the reduction of personnel costs by more than EUR1.4 billion by the end of 2022. Daimler said the aim is to 'cut jobs worldwide in a socially responsible manner, including the reduction of management positions'.
Revenue for the year was up 3% to EUR172.7bn (2018: EUR167.4bn) and Daimler Group posted full-year EBIT of EUR4.3bn (2018: EUR11.1bn – a drop of 61%), reflecting 'material adjustments including expenses from legal proceedings (diesel) and related measures, restructuring measures and M&A transactions. Adjusted EBIT, reflecting the underlying business, was put at EUR10.3bn.
Daimler chairman Ola Källenius acknowledged that the company could not be satisfied with the bottom line. "While our results in 2019 reflect ongoing strong customer demand for our attractive products, we cannot be satisfied with our bottom line," he said. "Above all, material adjustments affected our financial results last year. The future of the Daimler Group lies in CO2-neutral mobility as well as in consistent digitization, leveraging its full potential in our products and our processes. To achieve that, we have substantially ramped up our investments into new technologies.
"We are determined to materialize our technological leadership and at the same time to significantly improve profitability. To this end, measures to cut costs and to increase cash flows are necessary. In 2019, we defined them and we have started executing. We will take the necessary actions to enhance our financial strength as the basis for our future strategy."
There was a big fall in the free cash flow of the industrial business to EUR1.4bn (2018: EUR2.9bn). Daimler said the sharp decrease resulted from a substantial cash outflow in connection with legal proceedings relating to diesel vehicles. Also, a continued high level of expenses for new products and technologies (in areas such as electrification) had a negative effect, the company said.
Although sales of Mercedes cars hit a new record, with revenues up, EBIT for the division was also well down last year.
Mercedes-Benz Cars sold 2,385,400 vehicles in the fiscal year 2019, and slightly topped the record level of the prior year (2018: 2,382,800). Mercedes-Benz Cars' revenue increased to EUR93.9bn (2018: EUR93.1bn) and its EBIT fell by 53% to EUR3,359m (2018: EUR7,216,m). Return on sales was 3.6% (2018: 7.8%). Mercedes said a big negative impact resulted from a new assessment of expenses for ongoing governmental and legal proceedings and measures relating to Mercedes-Benz diesel vehicles as well as expenses for a recall of Takata airbags.
The company also said growth in unit sales and revenue as well as better pricing were offset by continued high investment in new technologies and products. Adjusted EBIT was put at EUR5,841m and adjusted return on sales was 6.2%.
Daimler Trucks showed a decrease in unit sales of 6% to 488,500 vehicles in the fiscal year (2018: 517,300). Revenue increased by 5% to EUR40.2bn (2018: EUR38.3bn). EBIT fell by 11% to EUR2,463m (2018: EEUR2,753m) and return on sales was 6.1% (2018: 7.2%). The company said that despite continued strong business in NAFTA region, declines in volume, particularly in Europe and Asia, had a negative impact on earnings. Negative effects were also due to higher upfront expenditures for new technologies and costs related to capacity adjustments.
Outlook
Daimler expects group unit sales in the fiscal year 2020 slightly below the prior-year level. However, it said group EBIT is expected to be significantly above the level of 2019, which was negatively impacted by various material adjustments. Group revenue in the fiscal year 2020 is expected to be stable at the level of 2019.
Daimler said efficiency measures already initiated in all business areas should have an initial positive impact on earnings as early as the 2020 fiscal year. These measures will take full effect in subsequent years. Restructuring measures and the initiated job cuts, on the other hand, will have a negative impact on earnings in 2020. The company also said that high upfront investments for new products and technologies will continue to have a negative impact on the free cash flow of the industrial business, even though upfront investments should have peaked in 2019.