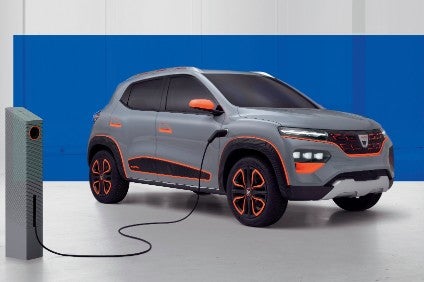 Dacia will enter the full EV market with a rebadge of a Renault model developed for emerging markets.
The Spring, based on the parent company's City K-ZE, is described as "a 100% all electric, four seats, city car offering easier access for the greatest number of people to easier and more virtuous mobility with a five-door city car that combines simplicity, reliability, and accessibility.
In other words, like all Dacias, it'll be (relatively) cheap.
The automaker claims the standard model will have a top range of "over 200km [120 miles] in WLTP guaranteeing versatility for stress free urban and suburban use".
It will be available in 2021.
The electric show car was due to make its debut at the now cancelled Geneva show this week hence the "pastel mouse grey body enhanced with matte splashes of fluorescent orange".
"Its assertive SUV style and compact dimensions makes it the ideal vehicle for everyday use with guaranteed peace of mind," said Dacia.
The company said the new nose styling and headlight 'signature' would appear on other future models.
Target customers will include 'new mobility' services such as car sharers, joining Renault's own Zoe, Kangoo ZE and Twizy models.