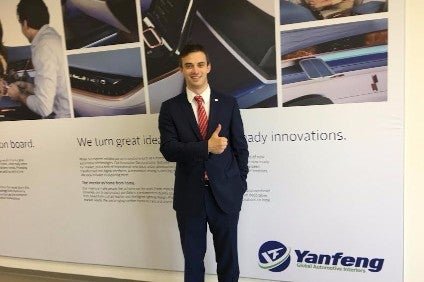 Czech Republic government officials maintain the country's advanced industrial capability is the reason why so many suppliers are locating to its region in Central Europe.
The country, along with its Visegrad Four neighbours of Slovakia, Hungary and Poland, flanked also by Serbia and Slovenia, has emerged as something of a magnet for component manufacturers keen to take advantage of competitive labour costs and a skilled workforce.
But Czech government bodies are keen to emphasise it is not just wage levels which have attracted so many suppliers – such as Yanfeng Automotive Interiors (YFAI) which last week (8 June) opened a new production plant in Planá nad Lužnicí – but the industrialised base of its manufacturing.
"We are the most industrial economy in the European Union (EU) – it is not a claim it is a figure," Czech Invest CEO, Charles Kucera, told just-auto on the sidelines of YFAI's inauguration of its new plant, which was also attended by Chinese Ambassador to Prague, MA Keqing.
"It is because we are more homogeneous than other countries; [for example] Slovakia has one part industrial, one part not, Southern Poland is more industrial and the Northern part not, the same with Hungary. We are comparable with Bavaria. We are technicians and have been for generations.
"Is it sustainable? I would say yes because investments are tying into innovation and more added value production. It is because the investors have good experience of high-tech manufacturing and putting innovation into production.
"Right now we are having new types of engineers. Out of [the] global top 100 key [automotive] suppliers, I think it is 56%-58% of them are in the Czech Republic. We are also very active for Asian investment because we are somewhere between East and West and have always been."
The Czech Invest chief conceded however, the cost of living for employees was lower than for other Western countries, but also pointed to the widespread geographical location of suppliers in the country, not only in major cities such as Prague, Brno and Ostrava, but elsewhere.
Kucera cited the experience of South Korean investors being attracted to the Czech Republic to areas around the Eastern city of Ostrava for example, where he insisted high standards of living were proving a boon.
"If they [suppliers] go to the US to a city which is eight times larger than Ostrava, they don't have the quality of life they have here," said Kucera. "[Also] Wages, compared to other cities in the Czech Republic, are a little bit lower.
Yanfeng VP & general manager, Jochen Heier confirmed to just-auto at the Planá nad Lužnicí factory the supplier had received EUR7.2m (US$8.1m) in incentives for its Czech plant, which it plans to use to implement Industry 4.0 techniques among other schemes, but Kucera maintains it is not simply hard cash that counts.
"Definitely that [incentives] will continue, but they don't just look at the money," added the Czech Invest chief. "Poland, Slovakia, Hungary can give more money [but] 15%-20% of the companies are here not because of incentives, they are not even asking for incentives.
"A lot of companies in automotive which don't own factories, don't own machinery, [so] they are leasing. They are not entitled to have incentives, so companies are coming here because of the environment and because they are able to attract people here."
The importance of the event and the status of Yanfeng was underscored by the presence in Planá nad Lužnicí of Chinese Ambassador, Keqing, who noted relations between the two countries were now on a more even keel following what appear to have been earlier tensions.
"In three years we have restarted our relations with the Czech Republic because before this period there were difficult times," Keqing told just-auto on the sidelines of the Planá nad Lužnicí factory opening. "For both sides it was high time for us to increase our cooperation especially in trade and economics – this is an urgency.