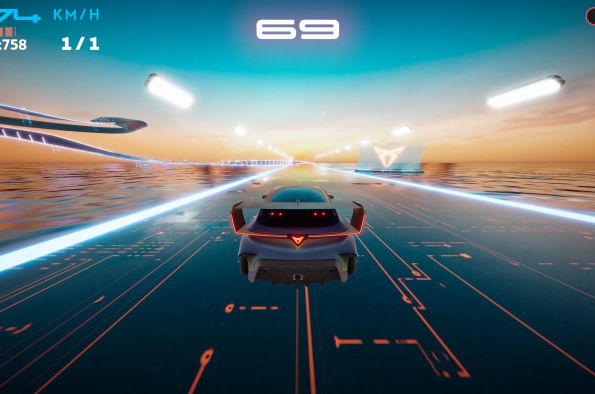 The stand-alone Cupra brand (which emerged from VW Group's SEAT brand) has introduced Metahype, described as an 'innovative and interactive exploration of the metaverse led by Cupra'.
Debuting at the brand's Exponential Impulse event in Berlin, Cupra says Metahype is an 'ever-expanding virtual island where brands, creators and communities get together to socialise, collaborate, create, and live emotional experiences'.
The island is formed by different districts and common spaces that can be owned and used by brands, start-ups, and creators to connect and engage with the new generation.
Metahype is set across three zones: the Metahype square, Cupra and Primavera Sound districts.
Users land at Metahype square, where they receive their Metahype Passport and a Dynamic NFT that represents the reputation of each Hyper. Cupra has developed a gamification system that is rewarding the users with Hypes for their engagement and activity within the platform. These points can unlock special experiences and new spaces inside Metahype.
Cupra claims one of the most extraordinary offerings of Metahype is CUPRA Next, a space where the users can influence the future of Cupra by configuring their own version of the Cupra DarkRebel – a virtual sports car – in a Hyper Configurator.
"METAHYPE has officially arrived. It is a space not just for Cupra, but for brands, start-ups, and creators to connect with the Next Generation. It provides a unique way of brand experience and engagement with the objective to connect different communities and unleash their power of collaboration and creativity," said Sven Schuwirth, COO of Cupra. "With this project, we want to re-define how people live experiences and feel emotions without the limits of the physical world – that's why we call it "Exponential You"."
Cupra has revealed five unique spaces that make up the CUPRA Metahype District and its related Experiences:
CUPRA Plaza: the meeting point for the CUPRA Tribe to connect and socialise
CUPRA Racing: a place to venture into the brand's racing DNA with gamified racing games where users' driving skills will be challenged in three different games
CUPRA Metahype City Garage: a place to discover and explore CUPRA's models, meet CUPRA masters and experience the latest CUPRA Tavascan
CUPRA Hub: the space where we showcase CUPRA beyond the automotive world –browsing the CUPRA Collection Boutique, or taking part in Dancing Challenges curated by Primavera Sound
CUPRA Next: where users can influence the future design of the CUPRA DarkRebel
Metahype is all about collaboration and that's why Primavera Sound is one of the first brands to join Metahype; more partners will follow soon, Cupra says. Primavera Sound will offer music related content on the platform and a gamified DJ academy to inspire the next generation of music lovers.
Developed mostly in-house and with local partners, Metahype's overarching objective is to connect different communities and 'unleash the power of collaboration'.
Metahype will be accessible via desktop at Metahype.com and soon also available via mobile. To sign-up and start discovering the island, visit www.metahype.com.