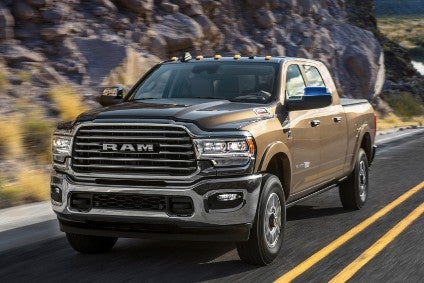 Fiat Chrysler US today announces not only replacements for its long-lived Heavy Duty Ram pick-ups, but also a Cummins in-line six-cylinder engine with a class-best 1,000 lb-ft (1,356Nm) of torque.
Made in Mexico. And Michigan? Maybe.
There is another surprise from FCA. Contrary to one of its two previous statements which seemed to state that the new Ram HD 2500 and HD 3500 would be manufactured in Michigan, that won't happen, at least not in 2019. Instead, the big trucks will be hecho en México, at Saltillo, the same plant which makes the current, outgoing heavy duty trucks. Warren Truck Assembly Plant might be used for additional build at a later date.
The company appeared to tell the media in January 2017 that the next Heavy Duty Ram models would be manufactured at Warren Truck. However, the wording of the release now makes it appear that instead, the plant would be capable of building the trucks.
FCA repeated the year-old news in another media release in January 2018 but this time, it definitely stated that the the HD Rams would be Michigan-made. Now, while revealing the models at the Detroit auto show, Fiat Chrysler contradicts itself, noting that Saltillo Truck is the location for their manufacture.
Aisin and ZF transmissions
As for the trucks themselves, unlike their Ford and GM rivals, FCA's XL-sized models can be fitted with an engine that produces 1,000 pounds-feet of torque (1,356Nm). The Cummins-supplied 400 horsepower 6.7-litre 'High Output Turbo Diesel' is able to be ordered only with the HD 3500. The torque output of this in-line six exceeds that of the previous Cummins diesel by 70 lb-ft. The transmission is Aisin's AS69RC six-speed automatic.
Unlike the diesel in the previous shape trucks, this one has a block made of compacted graphite iron rather than cast iron. There is also a version with lower outputs: 370 horsepower and 850 lb.-ft. of torque. Aisin also supplies a six-speed transmission for this unit but it is a different one: what FCA says is a 'significantly upgraded version' of 68RFE.
The gasoline alternative for HD 2500 and HD 3500 buyers is Chrysler's own 410 horsepower 6.4-litre Hemi V8, which delivers 429 pounds-feet of torque. The latter drives through a TorqueFlite-branded eight-speed automatic transmission. This is ZF's 8HP75.
BorgWarner transfer cases
Four-wheel-drive versions are equipped with a BorgWarner part-time transfer case. The V8 and the lower output diesel drive power through either an electronic (BW 44-46) or manual shift (BW 44-47) transfer case, depending on the model variant. The higher output diesel is instead linked to a part-time BorgWarner transfer case (BW 44-48) designed to handle the input loads which allow maximum towing capability of up to 35,100 lbs.
While the frame is obviously new, it remains steel, as do, with the exception of an aluminium bonnet/hood, all panels.
The 2019 Ram HD 2500 and HD 3500 go on sale in North America during the second quarter.