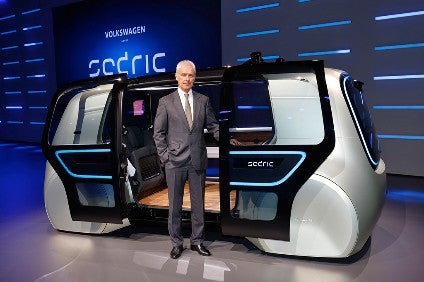 Dieselgate? Crisis? What crisis? The bullish attitude of top executives at Volkswagen AG's annual accounts press conference in Wolfsburg today belied the reputational damage, massive costs associated with still-ongoing recalls, diesel cars pulled from some markets and current legal action working its way through various courts on several continents.
"The positive result in fiscal year 2016 has given the Volkswagen Group new momentum and optimism as it enters the next phase of its realignment," trumpeted a press release.
"The last year was a challenging yet remarkably successful year for us. In 2016 we set the course for the biggest transformation in the history of the company – while at the same time performing better in our operating business than many thought possible. Volkswagen is back on track," CEO Matthias Müller said.
Added finance chief Frank Witter: "This result demonstrates that the group is financially equipped to bear the consequences of the diesel crisis. All brands contributed to the success of the [group] in 2016 by delivering a positive operating result."
Müller reaffirmed the target: "Volkswagen will remain one of the most successful automakers worldwide in 2025. But we will also be a leading international provider of sustainable mobility and set the standards for new mobility services. And what is at least as important to us: We will be a role model in environmental protection, safety, and integrity.
"The transformation of the core automotive business is on track, the new mobility services business unit is taking shape, our traditionally high innovative strength has been given yet another solid boost and financially, we have the realignment process well under control."
This year, the group will make further progress on its Strategy 2025 business plan, adding seven new SUV models including a new large model built in the US. New 'economy vehicle partnerships', such as the tie-up with Tata announced last week, are expected to begin with first models planned for 2018 and 2019. VW also is on 'mobility solutions' and 'mobility-on-demand services'.
It offers 10 electrified models currently, plans 10 more in 2017/2018 and around 30 new, battery electric vehicles by 2025. Work on more efficient combustion engines will continue. Group-wide, around 60 new vehicle models will launch this year.
Focused
Muller again: "Volkswagen will become faster, more focused, and more customer driven. This will allow us to make much more focused use of the strengths of our multibrand group and its synergy potential than in the past. We will develop new and fascinating mobility solutions. We will launch new vehicles on the market that will become the standard setters for the future. We will establish new business models, tap into new markets, and gradually take on a top position in the automotive world of tomorrow."
Operating return on sales is expected to increase to 7%-8% and the return on investment in the automobile sector to over 15%.
"We have set ambitious yet realistic targets. Targets that the entire Group feels committed to. We will deliver." Müller promised.
Despite 'dieselgate', the VW group sold 10.3m vehicles in 2016 with China sales up 12.2% to 4m.
Sales revenue exceeded expectations at EUR 217.3bn and operating profit of EUR 14.6bn, 'before special items', beat the previous year's result due to reduced product costs and model mix improvements. Operating return before special items improved to 6.7%.
Special items: EUR 7.5bn, though down from EUR 16.9bn in 2015. The "diesel issue" cost VW EUR 6.4bn in 2016, mainly due to expenses for legal risks.
Witter said: "Through agreements reached in North America, we have taken a huge step toward overcoming the diesel issue."
Nonetheless, sales revenue at the core Volkswagen Passenger Cars brand declined 0.6% year-on-year to EUR 105.7bn. Operating profit before special items fell to EUR1.9 from EUR2.1bn. The decline was mainly attributable to volume-, product mix- and currency-related effects and higher marketing costs as a result of the diesel problems. Operating return on sales before special items also declined slightly from 2% to 1.8%.
Audi brand revenue rose EUR0.9bn to EUR 59.3bn and operating profit before special items fell to EUR4.8bn from EUR5.1bn.
Outlook for 2017
VW expects 2017 sales will be "moderately" above the 2016 tally, "amid persistently challenging market conditions".
"Challenges will arise particularly from the economic situation, intense competition in the market, volatile exchange rates and the diesel issue. The sales revenues of the [group] is expected to grow by up to 4% year-on-year in 2017."
An operating return on sales of between 6% and 7% was forecast.