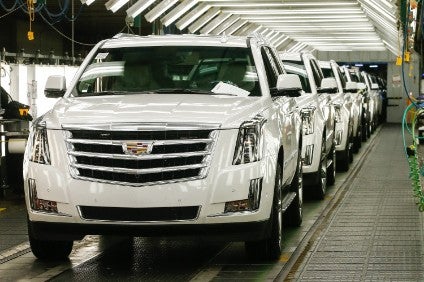 As one who has ridden out a hurricane or two, March bore an eerie resemblance to the biggest storms.
Beginning with a novel virus discovered in a Chinese province and reported at the end of December, COVID-19 grew rapidly, becoming a declared pandemic just last month. Reminds me of some hurricanes that have hit the US Gulf Coast.
Like a hurricane, there really isn't any way to deflect the coronavirus. The world has too many opportunities for transmission of infectious diseases.
Also like a hurricane, one can never predict the amount of damage that will be done.
While the damage done during the first month of living with COVID-19 was substantial, it really didn't look too bad at first glance. This was largely due to the fact the Detroit automakers had been joined by Nissan and the German car makers in moving to a quarterly reporting schedule.
Based on incomplete reports, first quarter sales were down about 12.6% to about 3.49m cars and light trucks. Jaguar Land Rover and Mercedes will be reporting their results later and there aren't any good estimates yet for Tesla.
Ironically, there was another hurricane analogue: the only segment that came through March in the black was full size pickups, up 3.1%. Mid size trucks, such as the Ford Ranger, almost broke even, falling short by just 0.9%. Combining the two produced a whole segment gain of 2.3%.
Pickups claimed more than 20% of first quarter sales.
Commercial vans and LCVs took the runner up spot in the March Disaster Derby. Deliveries were off 9.3% but that was still good for a 0.1% increase in market share.
When all the reports are finally in, it is very probable that crossovers and SUVs finally hit a 50% share of the US market. While utility sales were down 10.5%, the share of reported sales rose 1.2% to 49.7% of total industry turnover.
Minivan sales suffered, falling 21.4%. FCA is by far the dominant player in the segment with 59.7% of deliveries.
As should be expected by now, the passenger car segment took the biggest hit, falling to just 25% of sales in Q1. Volume was down 24.7% as several models from Ford and General Motors disappeared from the results. Sales of American brand cars totaled 21.3% of passenger car deliveries and just 5.3% of total Q1 sales.
Although the switch by several automakers to quarterly reporting can mask the month to month changes, most of the Japanese and Korean manufacturers are still reporting on a monthly basis.
This provided a glimpse at what happened in March. Aggregating the reports from Honda, Mazda, Mitsubishi, Subaru, and Toyota for January, February and March, the market was actually fairly strong. Sales were up 3.8% in January and 11.1% in February, leaving at least these companies in good shape with a 7.7% improvement over the first two months of 2019.
Then the pandemic struck the US and all of a sudden, the auto industry was on life support.
From the end of February to the end of March, new vehicle deliveries plunged by over a third as Americans were asked, then ordered, to stay home and dealership walk in traffic evaporated.
Going back to my hurricane analogy one last time, March is like that day after a hurricane passes, when it's still too fresh to get a good grasp of the total damage.
As bad as March was, April is likely to be much worse. Stay at home orders have been extended; millions of Americans are without their usual sources of income; and businesses are without their usual sources of revenue. COVID-19 just tossed a large spanner into the American economy.
Even if warmer weather does break the pandemic, as many are hoping, a jolt of this magnitude is going to require time just to return to relatively normal conditions. Moreover, it may be even longer before consumers have rehabilitated their finances to the point when acquisition of a new vehicle is even feasible.
One major analyst has reduced its forecast for the year to about 14.5m vehicles but even that may be too optimistic without major incentives, either from the industry or the government.
About the only bit of optimism I can offer is the experience of recoveries after a hurricane. We do come back and I would expect us to do the same this time.
See also: US market shock – Kia outsells Hyundai
Earlier report: US light vehicle sales in March down 39%