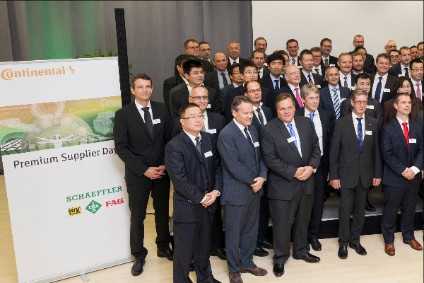 Continental and Schaeffler have given nine new component manufacturers Premium Supplier status, with the following companies included:
BASF – Germany
Etampam – Switzerland
Anton Häring – Germany
KAMAX Automotive – Germany
PennEngineering – US
Porite – Taiwan
G.A. Röder – Germany
Scheuermann + Heilig – Germany
Schunk Sintermetalltechnik – Germany
The two suppliers invited 37 component manufacturers from eleven countries to Herzogenaurach for their third joint Premium Supplier Day, with the nine new members being made part of the Premium Supplier Circle.
Continental and Schaeffler have a total of more than 1,200 suppliers; 110 were evaluated and assessed according to a list of requirements with ten criteria, while the status of 28 existing premium component manufacturers from a total of 32, was also confirmed.
Schaeffler and Continental's selection criteria include both a suitable product portfolio and high performance in terms of quality, as well as good logistics services with a global and regional presence.
Inclusion in the Premium Supplier Circle gives the suppliers significant advantages says Continental, namely; Premium Suppliers are included in the joint purchasing strategy and involved in product development projects at an early stage.
This provides the opportunity to work on collaborative innovations, to follow trends and to exploit synergies.
"Individual suppliers must satisfy extremely high demands in order to become a Continental and Schaeffler Premium Supplier," said Schaeffler COO, Oliver Jung.
"This small circle of our best suppliers has been further strengthened at this third Premium Supplier Day through the addition of nine companies."
Continental and Schaeffler have a joint purchasing volume of nearly EUR16.2bn (US$17.2bn), with cooperation in purchasing allowing synergies to be exploited and costs to be reduced.