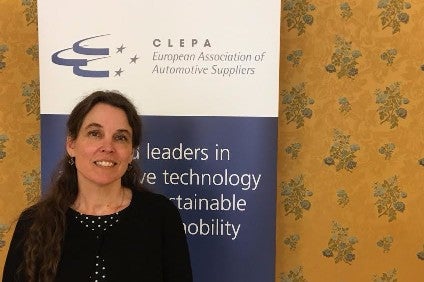 European automotive supplier association, CLEPA is urging no tariffs be imposed following the UK's exit from the European Union (EU), coupled with free movement of goods across British borders.
The issue of whether or not the UK will walk away from any eventual deal offered by Brussels with a possible reversion to WTO rules, is greatly exercising manufacturers' minds with virtual unanimity the status quo would be the ideal way to continue.
Equally, the recent failure by the ruling Conservative Party to win an overall majority in the British Parliament has stoked fears the UK could quit with no deal as Brexit hard-liners sense a weakened government to push their case, although the opposite could also apply to the 'remain' wing.
CLEPA secretary-general, Sigrid de Vries made clear the association's wish to see no tariffs following the conclusion of Brexit talks between the Commission and Britain at last week's (29 June) Innovation Awards in Rome.
"No tariffs but also no restrictions at the border," de Vries told just-auto at the annual event in the Italian capital. "The automotive industry has one of the most integrated value chains and you cannot just untangle that.
"Tariffs are one thing, but actual restrictions at the border, these are the nightmare scenarios. We have given press conference with ACEA and SMMT – to really clarify this is about competitiveness on both sides of the Channel.
"The EU has a lot of benefits with no borders – if you lose that what about type approval?"
The Brexit issue is just one of many fields in which CLEPA works closely with authorities in Brussels to ensure its voice is heard as technologies move rapidly from concept to reality.
The car industry is highly regulated with the European Commission (EC) taking a keen interest in areas such as safety, but also topics such as emissions standards which could see CO2 levels of 75g being imposed at some point in the future.
"It is very important for Europe as a whole to be sustainable long-term,"added de Vries. "Technological leadership for us is a term that has a lot of meaning and we work with the EC to sustain that.
"I think CLEPA is really a recognised voice in Brussels and we are called on as source of information. I have been living and working in Brussels for 20 years – automotive topics are so relevant for lawmakers and individuals so it makes it a really exciting place to be.
"The other field [together with connected and automated driving] we should not forget is passive and active safety. They come from suppliers – it is a massive topic for society at large. It is increasingly linked; these mobility solutions, beneficial environmental targets and efficiency, but bringing additional safety.
"It is our job to explain that to lawmakers – this is a heavily regulated industry and you can't look at these items in isolation. CLEPA [is] with the United Nations in Geneva and [works] with our American and Japanese partners – that is a really important role CLEPA has. A global approach is very important to stay competitive.
The Innovation Awards were taking place for the second year with the top three winners in each category receiving recognition for work in the fields of Environment, Safety, Connectivity & Automation and co-operation with fellow automotive companies.
This year, the jury evaluated 56 entries from 31 companies with judges from the following companies:
Josef Affenzeller – secretary-general – European Green Vehicles Initiative Association
Muriel Attané – secretary-general – European Association of Research and Technology Organisations
Antonio Avenoso – executive director – European Transport Safety Council
Felix Horch – group manager – Fraunhofer
Antonio Perlot – secretary-general – ACEM – The Motorcycle Industry in Europe
Karl-Oskar Proskawetz – administrator – Car-2-Car Communication
Michiel R. Van Ratingen – secretary-general – EuroNCAP
Margriet van Schijndel-de Nooij – secretary-general – European Automotive Research Partners Association