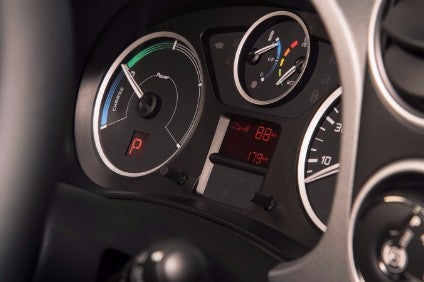 Citroën has launched an electric version of its Berlingo Multispace MPV [European size minivan] with a certified range of 170km (just over 100 miles).
The E-Berlingo supplements the existing range of combustion engine versions which have three-cylinder PureTech petrol engines or BlueHDi diesels.
Citroen said the EV "targets motorists looking to combine all the versatility of the Berlingo for their day-to-day use, leisure pursuits and professional activities with the advantages of an electric drivetrain". It joins the C-Zero, E-Mehari and Berlingo LCV EVs in the model line.
Lithium-ion batteries are in the subframe on either side of the rear axle so cabin and boot [trunk] volumes are unchanged.
The model can transport up to five people and the second row seats, either a bench and side seat or three independent seats to order, are removable while one or more seats can be removed to make room for large loads. Boot volume is claimed "among the best in the category" at 675 litres, with five passengers aboard, and 3,000 litres with the second row seats out.
The cabin also has 78 litres of open and closed storage spaces.
Citroen specifies two sliding side doors plus rear tailgate, the latter portal offers an optional large-dimension opening window – claimed to be unique in the segment – that makes loading the boot easier in tight parking spots.
EV benefits, the automaker said, include controlled costs, the possibility of city access regardless of traffic restrictions, and tax and parking advantages.
The drivetrain technology was launched in 2013 for the electric Berlingo light commercial van line.
Citroen said the 170 km (NEDC) range should suit most users as the large majority of Europeans drive under 100km a day. There is a range of charging modes – a flat battery can be charged completely via a regular domestic socket (8A to 10A depending on the country) or using a secure Green Up socket (14A) in 8.5, 12 or 15 hours depending on amperage. A rapid charging mode, charging the battery to 50% of total range in 15 minutes and 80% in 30 minutes is optional. The regular charging flap is located on the rear right wing while the rapid charge socket replaces the combustion engine models' fuel flap on the rear left.
The permanent magnet synchronous electric motor develops 49kW (67bhp) and is powered by two high-energy density lithium-ion battery packs with capacity of 22.5kWh. Torque of 200 Nm is available from rest. Transmission is a full-time single-speed reduction gear.
Citroen claims the Berlingo EV is cheaper to run than fossil-fuel versions and more economical than internal-combustion models. The battery has an eight-year/100,000km warranty and the electric drivetrain five-year/50,000km cover. Servicing is every two years or 40,000 km after the first year.
The new version has a thermal preconditioning system to heat or cool the interior remotely via a smartphone or tablet.
An energy consumption and regeneration indicator helps drivers adopt an economical driving style and optimise range. Drivers are also informed by an auxiliary consumption gauge (for heating and air conditioning) while an onboard computer displays remaining range and average consumption. Battery charge level can also be checked remotely.
Standard equipment includes a speed limiter, low tyre pressure monitor, electronic stability control (ESC) with hill-start assist, air conditioning, CD MP3 audio system with hands-free Bluetooth, two sliding side doors and a height-adjustable driver's seat.
A reversing camera is optional and rear park assist, standard on some trim levels, can optionally be supplemented by front park assist.
An optional seven inch dashboard tablet is used to access the onboard computer and radio, play music files frommobile devices, make hands-free calls and control the navigation system.
Connectivity includes Bluetooth, USB socket, a jack, and MirrorScreen function. Using a smartphone compatible with Mirrorlink or Apple CarPlay, this replicates some mobile apps on the touchscreen.
The optional navigation system also displays speed limits and traffic information, as well as mapping of points of interest, such as charging terminals, that can be reached by the vehicle based on remaining range.
The E-Berlingo Multispace is assembled at Vigo in Spain and will be launched in Europe from May onwards.