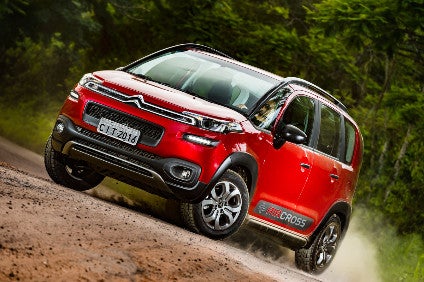 Citroën Brazil has retired the 'monovolume' C3 Picasso, replacing it with new entry level versions of the 'pseudo-adventurer' C3 Aircross for 2016.
The Aircross with ride height raised 2cm/0.78in is offered only in Brazil to meet a peculiar local need for 'offroaders' that look the part but can't. The 2016 model year cars have some styling updates, notably headlamps and grille. Some higher end versions have the spare wheel hung on the tail, further enhancing the fakery.
Other changes include electric power steering from the C3 hatchback and retuned suspension improving driveability and ride quality. A 5% taller final drive ratio, the EPS and 'green' tyres reduced fuel consumption 5% and tipped the line into the top A-grade under the Brazilian labelling programme for new vehicles.
Interior/equipment updates included a larger, seven inch, tactile multimedia screen, rear view camera and new upholstery.
There are six versions now, three without that external spare wheel that now will acccount for up to 40% of sales. Prices range from BRL49,990/$12,800 (manual gearbox, 1.5-litre engine of up to 92 bhp on pure ethanol) to BRL69.290/$17,800 (four-speed automatic, 120-bhp 1.6-litre engine, same fuel).
Citroën is expecting flat sales for this model in 2016 or slightly above 2015's in a total market forecast to fall 5%, following a recent prediction by Fenabrave, the national dealers' association.