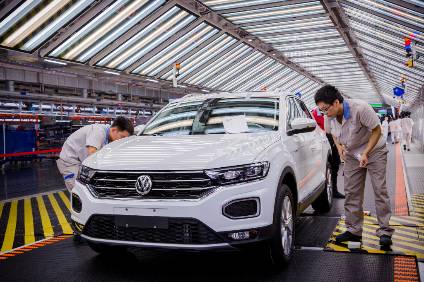 Vehicle sales in China dropped sharply in May, with about 1.913m vehicles sold, a decline of 16.4% year on year. That marked the 11th consecutive month of decline and followed a similar rate of decline in April.
Sales of passenger vehicles totalled 1.561m, a drop of 17.4% compared with May 2018, according to the China Association of Automobile Manufacturers (CAAM).
May's sharp drop will add to worries that the Chinese vehicle market is heading for a decline this year on the back of a weakening economy and ongoing trade tensions between China and the US. In 2018, the world's largest vehicle market contracted for the first time since 1990, sending shockwaves through the global automotive industry.
The country's vehicle market has continued to decline sharply this year. In the first four months of the year, it was down by over 12% to 8,353,500 units compared with 9,501,000 units in the same period of last year, as consumer and business confidence continued to weaken as a result of the trade war with the US and growing economic uncertainty.
Many domestic vehicle manufacturers are currently operating at around 50% capacity, while dealer inventories have continued to build up.
Another factor behind the slump in auto sales is uncertainty over emission standards. Xu Haidong, CAAM's assistant secretary general, told Reuters that a key reason for May's drop was provinces implementing 'China VI' vehicle emission standards earlier than the central government's 2020 deadline, creating uncertainty among manufacturers.
"We gave the manufacturers too little time to prepare," he said, adding that the industry's supply chain was finding it difficult to keep up with market changes.
Last week the Chinese government announced measures designed to help support the vehicle industry, but there is some disappointment that the limited measures announced did not go further. However, Beijing is also concerned about the country's high level of debt which a new surge in auto finance would compound.
See also: China announces "limited" measures to reverse falling car demand