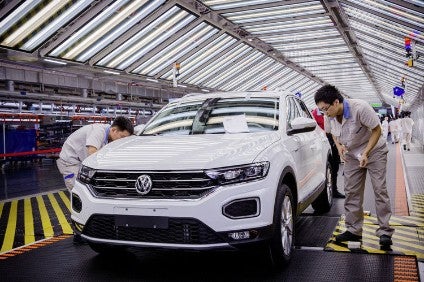 China's new vehicle market deteriorated further in April 2019, with sales falling by 14.6% to 1,980,500 units from 2,318,000 units in the same month of last year, according to newly-released wholesale data compiled by the China Association of Automobile Manufacturers (CAAM).
Last month's market decline was the tenth in succession, driven lower by a 17.7% drop in passenger vehicle sales to 1,574,900 units while commercial vehicle sales were just slightly higher at 405,600 units.
In the first four months of the year the overall vehicle market was down by 12.1% at 8,353,500 units compared with 9,501,000 units in the same period of last year, with passenger vehicle sales 14.5% lower at 6,837,600 units while commercial vehicle sales increased by 1.5% to 1,515,800 units.
Sales of new energy vehicles (NEVs) rose by a lower-than-expected 18% to 96,800 units last month and by almost 60% to 360,000 units year-to-date, including a 65% rise in sales of battery-powered electric vehicles to 277,600 units and a 44% increase in plug-in hybrid sales to 82,200 units. The government introduced minimum sales quotas for these vehicles at the beginning of the year, but later also announced subsidy cuts for these vehicles as part of a longer term plan to phase out government incentives altogether by the end of 2020.
CAAM attributes the decline in the overall vehicle market to weakening consumer confidence amid slowing economic growth and uncertainty generated by the continued trade friction between with the USA. At the end of last week the US government increased import tariffs on some US$200bn worth of annual Chinese imports from 10% to 25%, sending financial markets lower and putting pressure on currencies across the region.
Dealer inventories have also increased sharply over the last six months, putting further pressure on vehicle manufacturers' deliveries to dealers. Both domestic and overseas vehicle manufacturers with significant exposure to China, as well as component manufacturers, so far have reported deteriorating financial performances in the first quarter of 2019.
Another factor contributing to last month's market decline was the recent implementation of tighter emissions standards in some provinces.
To offset slowing domestic economic growth, the Chinese government has been pumping stimulus into the economy in the form of looser lending policies for banks, a cut in the manufacturing VAT rate and other consumer incentives. Automakers have also offered discounts to try to encourage buyers and to clear stock, although so far the passenger vehicle wholesale market has failed to feel any benefit from these measures.
FAW Volkswagen sold a total of 150,100 vehicles in April according to local industry sources; followed by SAIC-GM with 125,500 units; Geely Auto 103,900 units; Dongfeng Nissan 90,100 units; Great Wall 70,700 units; GAC Honda 70,300 units; FAW Toyota 65,800 units, Dongfeng Honda 62,000 units; and SAIC Motor 60,100 units.