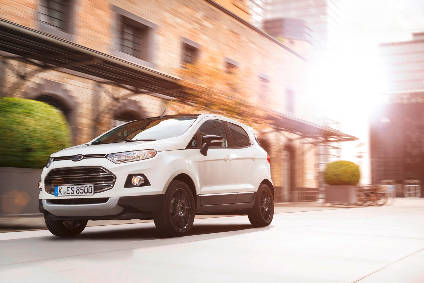 Ford's new entry into the US compact SUV market is likely to further fan the flames over automotive trade, according to a media report.
The EcoSport, already sold in many other global markets, will be built for the US in India, rather than locally, NBC News reported.
Ford is already at war with president-elect Trump after announcing plans to move all of its small passenger car production from the US to a new factory in Mexico.
NBC noted Trump repeatedly warned during the campaign he would take steps to block Ford from importing Mexican-made passenger cars, perhaps by adding hefty tariffs. Since last week's election, the incoming administration has sent signals it will not only try to tear up NAFTA and block a trans-Pacific trade deal but look at barrier-inducing tariffs against a variety of countries, possibly including China.
Toyota is planning to build Corollas at a new factory in Apaseo el Grande, in the central Mexican state of Guanajuato for which ground was broken this week.
Audi (Q5 SUV) and Kia recently opened new Mexican plants. Infiniti and Mercedes-Benz products will come from a new joint venture factory.
NBC noted critics contend the North American Free Trade Agreement has helped shift automotive jobs out of the US and Mexico has become one of the five largest national auto manufacturers in the world. But while low wages are a factor, so is the fact that the country has inked more global trade deals than any other nation in the world.
Ford and other carmakers are so far showing no sign of pulling back from Mexico, NBC said.
A source close to the automaker told NBC Ford isn't intentionally waving a red flag. It identified a new product segment and wanted to get into it as soon as possible and many of the market's other small SUVs are also coming from abroad in order to hold down costs and build a profitable business case.
"This decision was made a long time ago," the source told NBC, adding: "It has everything to do with Ford's manufacturing footprint, not the trade battle with Trump."
Joe Phillippi, head of Auto Trends Consulting, told NBC he hoped the trade dispute would die down, though he feared the EcoSport announcement could raise it back to headline levels.
"The automotive business is truly global. So, to make this whole thing work, you have to have a relatively free flow of components and vehicles across borders," said Philippi. "It's how you keep the costs down."
NBC said the EcoSport announcement actually could widen the automotive side of the trade debate, as Ford could now become the first carmaker to begin selling Indian-made vehicles in the US when the first units arrive in 2018. Several other Indian companies have laid out similar plans, but have yet to arrive.
Ford also builds the EcoSport in Brazil, China, Thailand and Russia and will add Romanian output in October 2017, according to just-auto's PLDB database.
To add fuel to the US trade fire, Volvo is importing the stretched S60 Inspiration sedan from China, soon to be followed by a longer version of the flagship S90 sedan, NBC noted.
Parent Geely plans to import its new mid-range brand, Lynk & Co, too. "The goal is somewhere around 2019," a source close to the carmaker told NBC News.
General Motors is importing the new Buick Envision from China. Several company officials have privately told NBC GM decided to forego the usual, splashy new model media preview for the Envision to avoid getting caught up in the trade debate. But GM would like to follow up with other Chinese-made models in the not too distant future.
NBC said Ford would also like to get off the radar in the trade debate, viewing sourcing decisions as a part of a global business strategy, not a matter of politics. But with the launch of EcoSport it could find itself back in the spotlight and draw more attention to the auto industry overall.