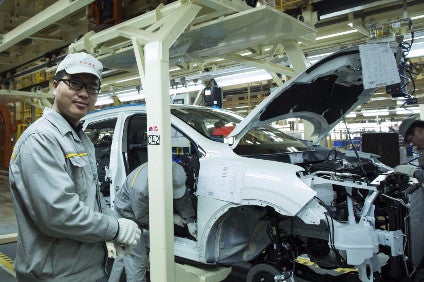 New vehicle sales in China rose by 6.3% to 2.12m units in April 2016, compared with 1.99m units in the same month a year earlier, according to data released by the China Association of Automobile Manufacturers (CAAM).
Consumer spending in the country has remained buoyant despite a slowdown in some key sectors of the economy in recent months, including industrial output and exports. The vehicle market in particular has also been buoyed by dealer incentives and discounts, as competition between vehicle manufacturers continued to escalate, as well as a reduced sales tax rate on small engine cars.
Sales in the first four months of the year were 6.2% higher at 8.65m units, compared with 8.144m units in the same period of last year.
Sales of light passenger vehicles rose by 6.4% to 1.72m units last month and by 6.7% to 7.36m units in the first four months of the year, according to data released separately by the China Passenger Car Association. The SUV segment continued to drive the market forward, with sales rising by 36%.
Local brands continued to gain ground thanks to their broad range of new entry-level SUV models. Their combined market share was 45% in the first quarter of the year, according to CAAM.
Combined sales by GM's joint ventures in China rose 7.5% to 277,979 units last month, with SUV deliveries more than doubling from a year earlier. Sales in the first four months of the year were 1.7% higher at 1.24m units.
Toyota's sales rose by 9.2% to 101,100 vehicles in April and by 2.4% to 392,100 units year-to-date, while Nissan's sales rose by just 0.7% to 96,200 and 0.8% to 394,800 units respectively.
Ford sales declined by 11% year-on-year to 76,840 units in April, although in the first four months of the year volumes were 7% higher at 391,294 units.