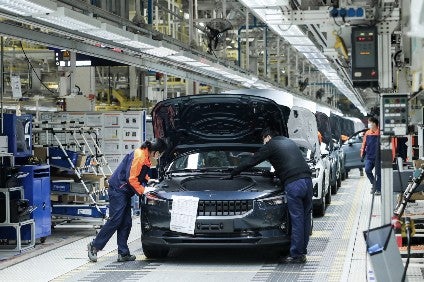 New vehicle sales in China rose by 11.6% year on year to 2.3m units in June 2020 from 2.06m in the same month of last year, according to passenger and commercial vehicle wholesale data released by the China Association of Automobile Manufacturers (CAAM).
Sales last month were driven higher mainly by a 63% jump in commercial vehicle deliveries to 536,000 units from weak year earlier volume of 329,000 units while passenger vehicle sales rose by just 1.8% to 1.76m from 1.73m.
June was the third consecutive monthly rise for the Chinese vehicle market after sales plunged 42% in the first quarter as the domestic economy continued to recover from the COVID-19 global pandemic.
Total vehicle sales in the first half of the year were still down by almost 16.7% at 10.26m units from 12.32m units a year earlier, with passenger vehicle sales down by 22.4% at 10,257,000 units while commercial vehicle sales were up by 8.6% to 2,384,000 units.
CAAM deputy secretary general Chen Shihua said the market enjoyed "better than expected growth thanks to pent up demand for passenger vehicles from the first quarter, as well as record commercial vehicle sales".
The association remains cautious about the strength of the current market recovery, particularly given the slowing rebound in the passenger vehicle segment.
The sales recovery in the last few months was also driven by discounting and promotional activity by dealers and incentives by local governments.
There is growing concern that the current recovery could run out of steam and the association has suggested the vehicle market could decline by between 10% and 20% this year.