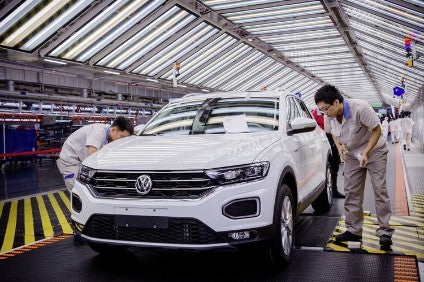 New vehicle sales in China fell by over 43% to 1.43m units in March 2020 from 2.52m units in the same month of last year, according to wholesale data released by the China Association of Automobile Manufacturers (CAAM).
Last month's sales were 4.6 times higher compared with the February 2020 total, the low point of the crisis when many parts of the country were under lockdown. February sales plunged by almost 80% year on year to a decades low of 310,000 units.
Encouraged by signs that the spread of the virus was slowing, the Chinese government began to ease restrictions on business activity in most areas of the country towards the end of February.
The government has also injected huge monetary and fiscal stimulus to help prevent the economy from collapsing while automotive specific policies have also been introduced to help the industry rebound quickly – including additional sales incentives and the suspension of restrictions on new licence plates by municipal governments.
State owned enterprises are also being encouraged to step up purchases of new energy vehicles.
Towards the end of February, vehicle manufacturers nationwide were urged to restart operations "as soon as possible".
CAAM deputy secretary-general Chen Shihua said "we didn't expect vehicle manufacturers to resume production so fast".
The government last week said it had reduced restrictions on market access for new energy vehicle manufacturers to help the segment's recovery.
It no longer requires manufacturers to have local design and development capabilities but will impose higher aftersales standards.
First quarter vehicle sales were down by just over 42% at 3.67m units from 6.37m units in the same period of last year, according to CAAM data.
Chen suggested "the Chinese vehicle market is rebounding from the February low and is expected to return to normal in the second half of the year" while cautioning "the market is almost certain to see an overall fall over the entire year, however".
Separate data released by the China Passenger Car Association (CPCA) showed retail sales of passenger vehicles fell by almost 41% year on year to 1.08m units in March, with the association suggesting "April passenger vehicle sales will be much higher than in March".
Last month GM China President Matt Tsien said he expected China's vehicle market to decline sharply in the first half of 2020 before staging a recovery in the second half.
He urged the Chinese government to delay the next tightening of vehicle emissions regulations, scheduled for July 2020, until the end of the year to allow dealers more time to sell their stock.
The US automaker said its Chinese subsidiaries and joint ventures sold 461,716 vehicles in the first quarter of 2020, down 43% year on year.
State owned FAW Group said its first quarter sales amounted to 607,675 vehicles while SAIC Motor's global sales – including its Chinese subsidiaries and joint ventures – fell by almost 56% to 679,028 units in the same period.
Local SUV manufacturer Great Wall Motors reported 60,048 sales in March, an almost six fold increase on February, while first quarter sales were down by almost 49% at 145,766 units.
BYD Auto also reported a six fold month on month jump in sales to 30,599 units in March (-35% year on year) while first quarter sales were down by 48% at 61,273 units.
Geely Auto's sales were up by 245% month on month in March at 73,000 units but were down by over 41% year on year while first quarter sales fell by almost 44% to 206,000 units.
Mercedes-Benz first quarter sales were down by just over 20% year on year at 138,960 units, with the company claiming demand is already rebounding, while Tesla reported record monthly China sales of 10,160 units in March.